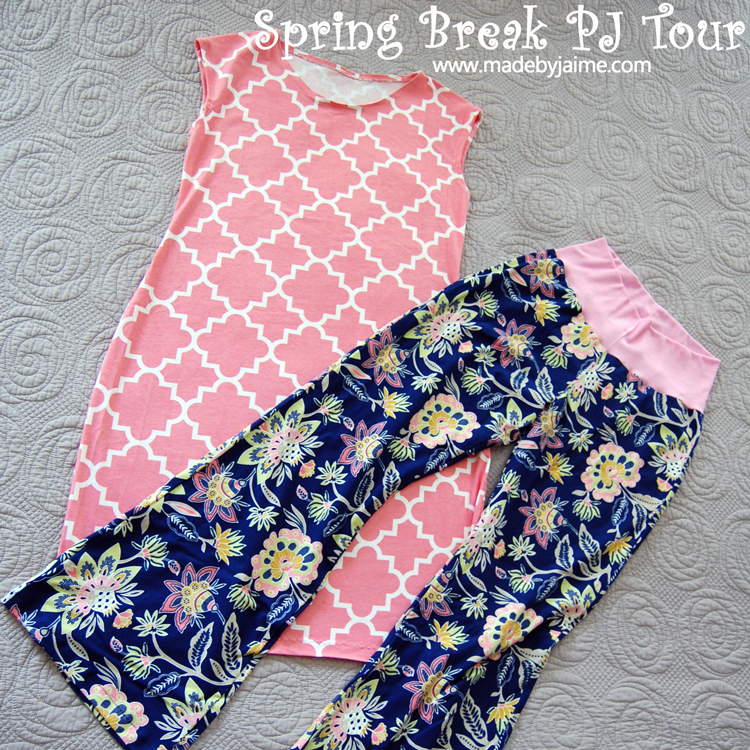 Hey all – I back today on the Spring Break PJ Party tour, this time to share my handmade PJ's!
I made PJs for myself using an oldie in my pattern stash and a newer addition to my pattern stash.
We've been planning this tour for a while, so when I was getting ready to attend QuiltCon2016 and saw that Girl Charlee would be there with their BOLT fabrics, I immediately made plans to purchase fabrics from them for the PJ Tour. Their BOLT line is only available to fabric retailers, a list of which you can find here, so I was excited to be able to see and feel them in person. They are incredibly soft, lightweight and drapy, not to mention they're preshrunk so you can skip the washing and get right to cutting! I knew they'd make amazing pajamas.
It's starting to warm up where I live so I decided to use the Casual Lady by Go-To Patterns to make a nightgown in the pink quatrafoil. This is a pattern I've had in my stash since I first discovered PDF patterns. I was drawn to its simplicity and classic style.
The pattern uses facing to finish the neckline. It reaches from the shoulders down to about halfway down the armscye, laying across your chest. I didn't personally enjoy the feeling of the extra fabric so after the dress was all finished, I cut it away. Since knit fabrics don't unravel, I just cut it close to the stitching on the inside around each armscye and the neckline leaving the finished edge.
I graded between a smaller size on the top and a larger on the bottom, but I think if I were to make it as a dress again, I would use just a single size as there's a little extra around the hips. But it will be WONDERFUL as a nightgown for spring and fall.
The second piece I made was the Portlander Pants by Terra's Treasures.
Since these only just came out a few months ago, this is the newer pattern in my stash, but I'm so happy I made the purchase. I have a pair of pants similar to these that are my standard winter PJ pants, but I could definitely use a few more pairs – and in happier prints. My original pair is black. So I grabbed this floral from the BOLT booth at QuiltCon and they really are much more cheery than my old black pair.
I had the pink rib knit in my stash already so I used that for the waistband.
I did not opt to include elastic or a draw string and they are comfy and easy to wear. You can be sure next fall I will be making another pair or two. I used one size on the pants based on my hip measurement.
If you're looking to make PJs for yourself, these are great patterns to try out!
Now on to the fun part!
There are 24 shops sponsoring prizes for this tour!

Along with today's daily giveaway (see below!) there is also larger giveaway and a link up happening. Go to today's post over at Sprouting JubeJube to get the full details on how to link up and to enter the giveaway!
We are also lucky to have four fabric shops offering readers discount codes:

Mabel Madison is offering 20% off with the code JAMMIES. Code expires March 31st!
PhatQuarters is offering 10% off OR FREE shipping to US addresses on orders over 40$ US (with an equivalent discount for international shoppers). Use the code PHAT10 for 10% off OR FREE40 for free shipping to US.
Raspberry Creek Fabrics is offering 15% off with the code PJPARTYTOUR. Good through March 26th!
Tangled Blossoms Designs is offering 10% off with the code PJPARTY. Code expires March 25th!
And now for today's giveaway!
Today's prize is sponsored by Felicity Sewing Patterns and StitchART. You could win 1 pattern of choice (excludes bundles) from Felicity Sewing Patterns and 2 patterns of choice (excluding bundles) from StitchART. Visit Felicity Sewing Patterns and StitchART to see what they have to offer. The giveaway ends March 26th at 11:59pm EST. See the Rafflecopter on how to enter! You have up to 8 chances to win! The winner will be chosen March 27th and will have 48 hours to respond to the email before a new winner is chosen.
This promotion is in no way sponsored, endorsed or administered by, or associated with Facebook.
Want to win more prizes? You still have time to enter yesterday's giveaway! Go to Made By Jaime's post from yesterday to enter the giveaway that ends at 11:59pm EST tonight (March 25th)!
Missed a stop on the tour? The full schedule is below:
Monday, March 21st
Sew Far North | The Wholesome Mama | From-a-Box | Pattern Revolution
Inspinration | Paisley Roots
Tuesday, March 22nd

Sprouting JubeJube | 5 Out Of 4 | Sew Happily Ever After | Beri Bee Designs
Phat Quarters | Connected by A Thread
Wednesday, March 23rd
Create 3.5 | Handmade Boy | HattieLu Handmade | Made by Melli
The Crafting Fiend | Sweeter Than Cupcakes
Thursday, March 24th
Lulu & Celeste | Sew Starly | Phat Quarters | Pear Berry Lane
Rebel & Malice | Creative Counselor
Friday, March 25th
Made By Jaime | Mae & K | Mabel Madison | SewSophieLynn
Amazing Adventures of Bubba & Bug | MahlicaDesigns