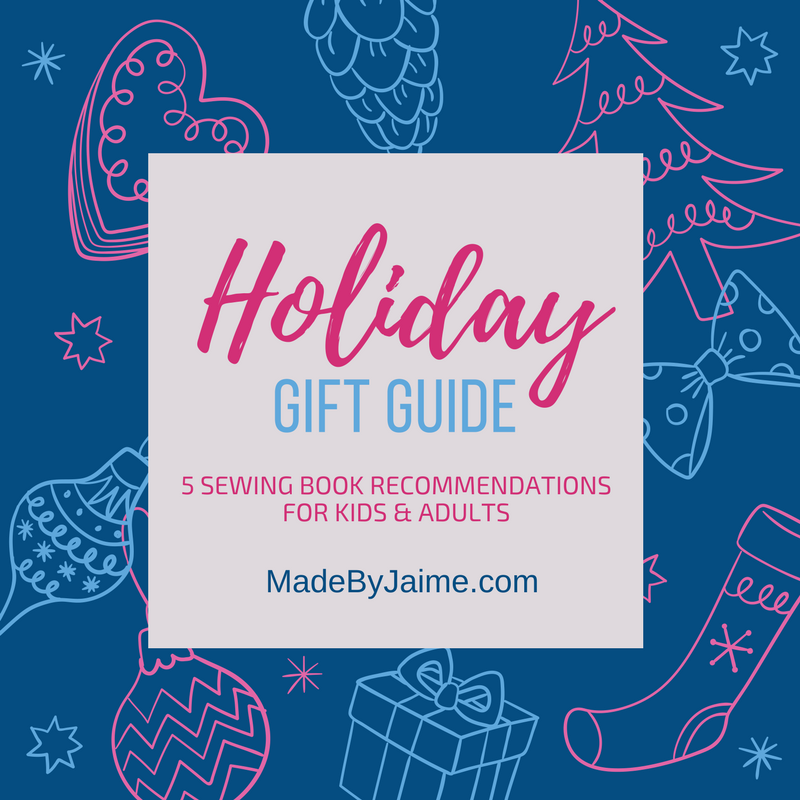 It's still 90 degrees where I live, but mid October has me thinking about CHRISTMAS!
I've been looking around at different sewing books to use as recommended resources or class textbooks for various ages and skill levels and I wanted to share with you what I've found!
(Note: All links in this post are affiliate links. Shopping through the link doesn't cost you any more, but I do benefit from a small commission. That said, no one asked me to recommend these books – I found them on my own and wanted to share the best from my search with you!)
For Young Beginner
If you have a 6-8 year old interested in machine sewing, check out
My First Sewing Machine Book: Learn To Sew: Kids
 This is a small paper back book with clear & simple explanation of the sewing machine, practice sheets for getting used to "driving" the sewing machine, and then 6 attractive projects including a tote bag, cushion, zip cases, ipad case, draughty dog and skirt! Techniques include applique, zippers, hand sewing embellishments, stuffing and using elastic. It would make a great book to work through with your little one and you could walk away with real skills under your belt. If you'd rather your 6-8 year old start with hand sewing, the same author has a book entitled
My First Hand Sewing Book: Learn To Sew: Kids
or for a little more of a challenge, she also has
My First Sewing Machine: FASHION SCHOOL: Learn To Sew: Kids
I have not seen these myself, but I like the Sewing Machine Book enough to say those would be worth a shot!
For Older Elementary
I'm a little surprised that they call this
My First Sewing Machine Book
because it only has a page and a half of instruction about how to use the sewing machine in the back of the book. However, the projects are still fun and interesting so if your child already has a handle on using the sewing machine itself, this would be a good project book for them. There are several projects under each of the headings, Clothes & Accesories, Bags & Cases, Things for your Room, and Toys & Games – a total of 35!! This one would have kept me busy for several summers!The projects use a combination of hand sewing and machine sewing and there's sure to be a project to catch your eye.
A Kid's Guide to Sewing: Learn to Sew with Sophie & Her Friends; 16 Fun Projects You'll Love to Make & Use
has the most thorough explanation of sewing tools, notions, fabrics, information about the sewing machine & basic sewing techniques, which take up about 1/3 of the beginning of the book. The projects feature both boys and girls in the photos and while there is a skirt and a swimsuit cover up for the girls, there are sleepover bags and pillows that would work for both. As the title indicates, there are 16 different projects. Some of them that stick out to me are a washable pet bed, the sleepover bag, reversible messenger bag, cuddle fleece patchwork throw, backpack decorations and an insulated lunch bag. It is geared for ages 7-11 but I would probably make at least half of the projects for myself!
Teens & Adults
This book is one of my favorites. I met Shea Henderson at Quilt Con 2016 while taking her quilt binding class. She had this book set up in the back and I was thinking about starting up sewing classes, but there are a bajillion sewing books out there and I thought – what makes this one special?
School of Sewing: Learn it, Teach it, Sew Together
like A Kid's Guide to Sewing above, has a beautiful and thorough section in the front of the book discussing how to use the book, about your sewing machine, supplies, fabric & basic skills/general tips. If you are a teen or adult completely new to sewing, this section is worth the book by itself. However, the book then takes you through 12 projects that progressively build your skills, starting with a pillow case and ending with a triangle quilt with an apron, tech case, clutch and more in between. I love that the projects are cute and functional – something you want to make. My only caveat is that most of the projects rely on rotary cutting (with the self-healing mat, ruler and rotary cutter). There is an easy work-around on that, however, if you're not yet comfortable with rotary cutting or don't have the supplies. You can simply draw the dimensions on paper, essentially creating a pattern that you can then place on your fabric and cut. Other than that, I really like this book and think you will enjoy it.
Advanced
If you or someone you know is already well on their way into the sewing addiction, and they're interested in garments, I would recommend
Design-It-Yourself Clothes: Patternmaking Simplified
I studied flat pattern design and alterations in college and what I love about this book is that it makes pattern drafting easy enough to understand for every seamstress. The garment shapes drafted are simple but then Cal Patch walks you through alterations to the pattern that bring about a completely different look. For someone who works with patterns already and is interested in creating unique looks for themselves that are drafted to fit their own body type, this here is the book!
What are some of your favorite sewing books? Let me know in the comments!