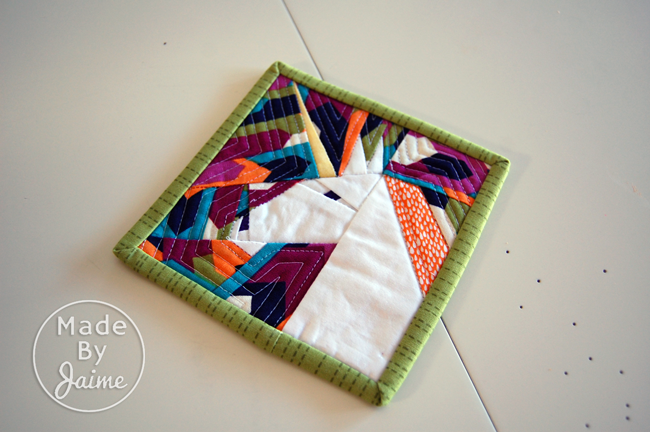 If you have not participated in a swap, you are really missing out! Over the holidays I did a mini-quilt swap with my local MQG. It was SO much fun that when I started seeing swap signups all over my instagram feed, I instantly signed up for two without a thought! I was assigned #RainbowTeamOrange and we all started following each other to get a sneak peak of the quilts being made, wondering which one would be ours!
The rainbow mini swap shipping date was the day after Easter. I had so much going on with sewing deadlines, Easter sewing, and the sell of my domain that I didn't get started until late! But I had so much fun buying a bundle of rainbow fat quarters and using the FREE Ice/Fire Star pattern from SewWhatSherlock. (You guys – if you have not seen her other paper piecing patterns – go look – there's a Llama – A LLAMA! A grouchy cat, the leg lamp from Christmas Story and MORE – GO! I'll wait…)
The Ice Star pattern was so accurate, it made putting it together a joy! I was very sad I wasn't able to incorporate yellow in the front and I was stumped on the binding until it was suggested I use this balloon print, which had all the colors in it (including yellow!). I quilted it by sewing a wavy line down the center on the diagonal and then sewing the width of my walking foot away from the line in each direction, over and over and over again. 
I had fun randomly piecing the back and I put the triangle quilt hangers on the back again (mentioned here) and got to try out the nifty new fonts on my new juki for the quilt label. 
Even though I was so late in getting everything together, I really wanted to do something as a fun extra for my swap partner. Her form said she liked Halloween & unicorns. I didn't have any Halloween fabrics on hand, BUT I did find this amazing unicorn paper piecing pattern here (along with a TON of other free patterns). You have to scroll to the bottom or click the quick link at the top of the page, it's under "Magical Creatures".
Seeing as it finishes a 5″ square, I thought it'd make a great coaster/mug rug.
Here it is on the grid so you can see the real size.
On the same day my package arrived at it's destination, I also received a package!! I saw someone comment somewhere else and agree – when you work so hard to make something for someone else, you almost forget that you're going to get one too!!! It's like Sewing Christmas! Check out my jackpot!

So if you're on instagram, search the hashtags for swaps you may be interested in or be sure you're follow sewing people who inspire you so you can find out when the next swap goes down! You'll have so much fun and make lots of new friends!