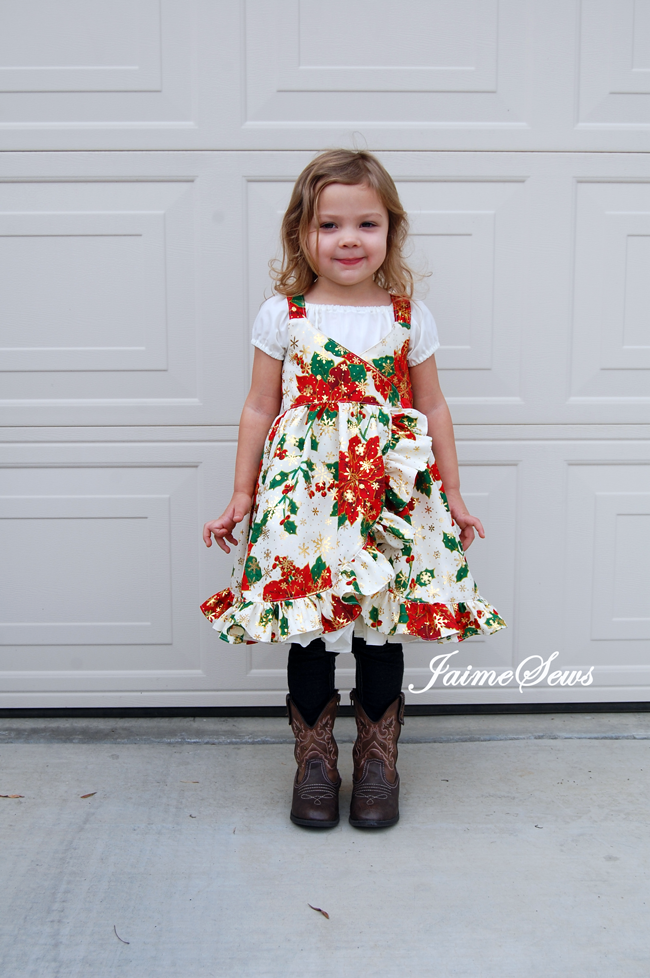 Merry Christmas! I hope you enjoyed your time with Family & Friends – we've had a full week of celebrations!
A couple months back, Annastasia,  the designer at My Treasured Heirlooms, announced she was in the process of updating her Sweet Innocence Dress and she was looking for a few seamstresses to sew it up and help spread the word! I instantly fell in love with the look of this pattern. It's so classically girly and feminine and I thought it'd make a great Christmas Dress. It was a little cool the day we took pictures so DD insisted on wearing leggings underneath and turns out…while she has some great handmade clothes…she's lacking in the dress shoes department so boots were the closest acceptable footwear available. HA! We'll just pretend it's purposeful and call it "Country Christmas" 
When I walked into F&M Fabrics (online at www.thefabricmarket.com), they had just gotten these Christmas prints in and I was immediately drawn to them. This cotton has a little bit of polyester in it so it's easy to work with, but has a great drape and a soft feel (not to mention less wrinkling).  A few weeks later when I was actually ready to get to work on this pattern and needed a fabric for the underdress, I was directed to their poly cotton solids. Again I love the benefits of this blend for garments – easy to work with but not as stiff as quilting cottons. Thefabricmarket.com has a great selection of colors at a great price – see them all here.

The Sweet Innocence Dress Pattern includes patterns for 3 dresses, 2 under dresses, and pants in 2 styles and comes in sizes 2 to 10. The updated version offers 4 different sleeve lengths! I chose view A with the cross over front and I just love it. The fullness of the skirt and the ruffle gets me every time – so precious.  This would make a great Easter Dress or Birthday Dress too and with all the options, no one dress would ever have to be the same! I hope you'll check out the Sweet Innocence pattern, as well as the rest of My Treasured Heirlooms' shop!
Have a Happy New Year!