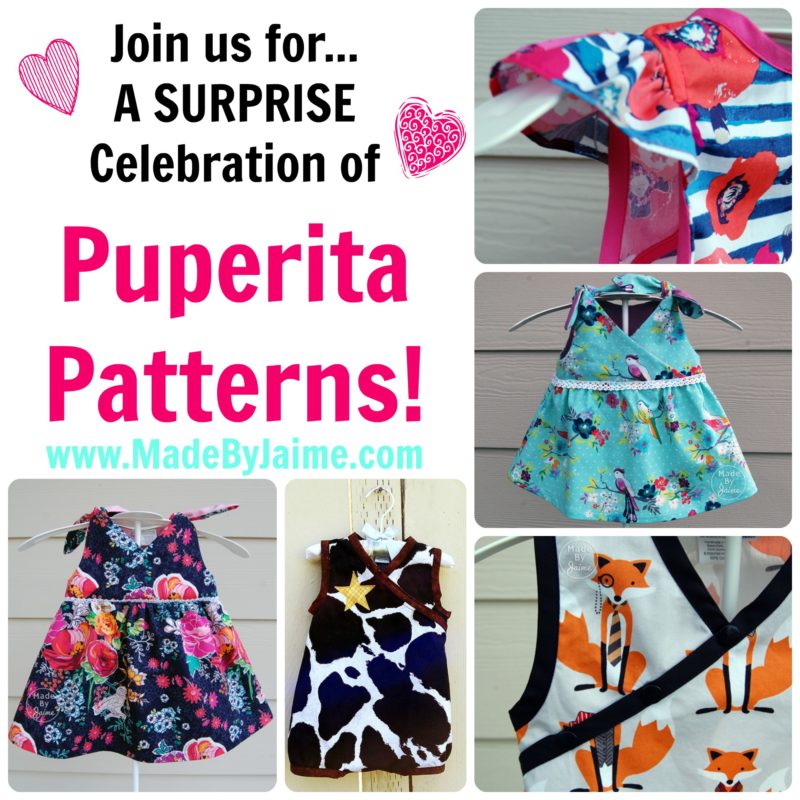 Spring is in the air and it's time to celebrate all the things – sunshine, flowers, that something about the season that makes us all want to get moving/cleaning/creating –  and also, for the purposes of this post, Puperita Patterns!
A few months ago, some lovely blogger friends thought it would be fun to celebrate one of our favorite PDF pattern designers, Annalisa of Puperita Patterns for no other reason than to showcase her wonderful patterns and tell the world how kind and wonderful she is to work with!
(Don't you just love the creative blogger community!?!)
My first time using a Puperita pattern was for a customer years ago who found my card at the local fabric store. She wanted to surprise a friend who had been through some hard times with a cow-print romper, complete with star (they were in Texas) for her new bundle of joy. The catch was, she had a deadline – a ONE WEEK deadline! I was new to the PDF world but I knew that would be the way to go in such a time crunch. After searching Etsy for romper patterns, I settled on the Teddy's Romper by Puperita.
Sadly, that is the only picture I took! The only cow-print available to me locally was a close-to-real-life cow print. I wish I could have found a more baby-friendly print, but the customer was very happy with it and hopefully the mom she gifted it to was too.
The thing that impressed me most about my first encounter with Puperita Patterns was Annalisa herself! Soon after my purchase, she sent a sweet thank you for purchasing her pattern over Etsy Convo . She was very helpful and kind in her communication. When I finished the cow romper, I sent the above picture to show her what I had made. She promptly asked if it would be OK with me to share on her Facebook Page with a link to my Etsy shop! Who doesn't love that!? Every purchase I've made in her shop brings the same delightful experience. This is much of the reason we all wanted to surprise her today with a tribute to her creativity and to show our appreciation for her as a person.
I love Puperita's Teddy's Romper pattern because it is such a classic design – it will never go out of style and I can only imagine it's super comfy to wear! In just over two weeks I will be a vendor at a local Spring Crafter's Market (I hope you'll come see me if you're in the area! See the Facebook Page here or the Instagram feed here). When I was considering what to make to fill my booth, I returned to the Teddy's Romper.
I have been hoarding this Robert Kaufman Fox & the Houndstooth print since it came out and thought this would be a great chance to use it. I love that the Teddy's Romper calls for woven fabrics because the design leaves plenty of room for the fabric to shine.
The closures are snaps (I used Kam Snaps) so getting the romper off and on is super simple – it is very diaper-change friendly!
All the raw edges are enclosed in bias tape, which you can either make or purchase. If you've not used pre-made Bias Tape before, you should definitely not be intimidated by it! One side of the tape is folded in ever so slightly more than the other side. As per the instructions in the pattern, you sew the tape on the right side of the fabric, turn it to the back and stitch down from the front. If you put that thinner edge on the outer/right side of the garment, when you flip the bias under to the wrong side, it is just a hair wider so you have no problem catching it underneath even while stitching somewhat blindly on the top side!
The other great thing about this pattern in particular is that there is an alternate sleeve to make it a bit more girly!
(YES those are heart snaps and I got them at KamSnaps.com!)
Aren't those sleeves adorable?! And the edge is still finished with bias tape so no seams to bother baby.
Such a simple, yet lovely detail!
Another Puperita pattern I recently fell in love with is the Sweet Bee Dress. I found this to-die-for print at QuiltCon in February – it's from a new-to-me company, Adorn It! (I keep meaning to write a QuiltCon wrap up post!) They started as a scrapbooking company and have added fabrics. I think that's so smart since many people do both, but if not, the prints can so easily work for paper and fabric.
This is the BEE version of the dress with a wrapped bodice, high waistline and a full skirt.
The Pattern also includes the SWEET version, which features a rounded bodice highlighted with an optional bias or piping, high waistline and a full skirt. But I loved the wrapped bodice so much that I ended up making it in all 6 sizes using this Priory Square Print by Art Gallery Fabrics.
Annalisa puts lots of work and information into her patterns. You'll find body measurement charts, finished measurements, a pattern diagram (for how to compile the printed pattern), cutting layouts, notions lists, suggested fabrics, and clear instructions with plenty of photographs to show you how it's done.
Puperita Patterns has quite a design portfolio too! Whether you're looking for patterns for your boutique or just something sweet & classic to sew up for gifts, I would definitely recommend starting with Annalisa's Etsy Shop. And here are a few other people who would agree. Be sure to click on through the other posts to get an idea of all the wonderful Puperita designs!