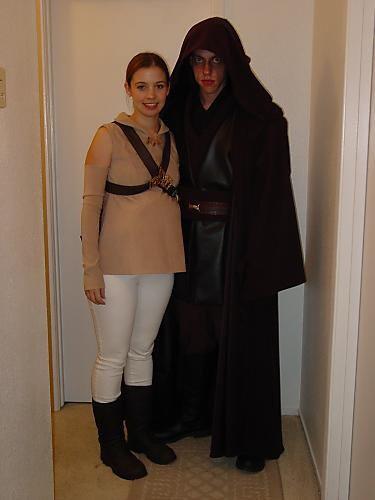 (This post originally appeared on StarWarsWife.com)
Hi there – I'm Jaime, Star Wars Wife and sewing blogger over at madebyjaime.com!
September is here and now's the time to be a good Star Wars Wife and start thinking about which Star Wars Costumes you're going to make for Halloween!
Over the years, I've gathered and made a few different sets of Star Wars costumes for adults and children so I thought I'd share them with you here so you can get ideas to create your own Star Wars costumes this year! I'll be with you for two posts, so check back next Wednesday!
Star Wars costumes are pretty easy to replicate because many of them are really just pieces of regular clothing layered together in ways we don't usually wear them in every day scenarios. And, if they are not, like a hooded robe for instance, you can usually find a way to make one using a non-star wars costume pattern as they seem to be a staple in costumes in general.
Our very first Star Wars costumes were soon after Episode 2 came out so we were, of course, Padme and Anakin.
My costume was mostly gathered from thrift stores or clothing I had on hand: White Stretch pants & boots (thrifted), a basic white long sleeved shirt, and the cape was an old blanket that's been in my husband's family for years. Just tied it around my neck. The utility belt was made from some vinyl from the fabric store – just sewed some Velcro on the end, made a box on one side to slide on and a holster for the other side. The gun was a toy from when my husband was a kid. Andy's costume was made using a karate top pattern. We found the pants at a thrift store and cut vinyl strips from the fabric store for the shoulder pieces and belt. Nothing too sophisticated but I was still in college and poor!
The second time around making star wars costumes, we went ALL OUT.
We had just been to FIDM (Fashion Institute of Design & Merchandizing) in Los Angeles where all the real costumes from the movies were on display. We walked out the door very inspired and rode over to the Garment District where we bought an industrial sewing machine, the fabric we needed and headed home to sew it all up. This time I made everything (except my lovely white leggings) and Andy helped with the details and embellishments.
For Pregnant Padme I used Simplicity 5106, View F.
I added a collar from another pattern I had in my stash and then made the straps from vinyl. BTW, I was not pregnant the first time I made and wore this costume – that's a pillow I borrowed from work (at the time, a bridal store). To finish the look, my husband googled and printed out pictures of the brooches, tracing the lines with a glue gun. Then he painted them gold and embellished with red gemstones. I regret not getting a close up of those cause they were pretty cool.
For his costume, I used Simplicity 4450.
This time I made the pants, and instead of just cutting strips of vinyl for the shoulder pieces and belt, I made them the right way as the pattern instructed. Not only that, but we added the Jedi Robe this time around. The design of the robe was so perfect and it really turned out great. For his belt, he added some utility pockets he had on hand, but then also took pen caps and painted them gold and silver to add for authenticity. He carried his FX replica light saber and once he did some costume makeup, the whole effect was pretty awesome.
Click here to read about how we put together our kids' costumes throughout the years!