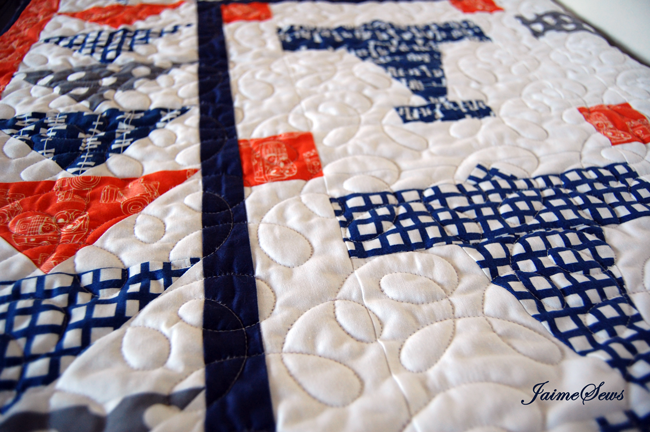 Well this is a finish 8 months in the making! I've finally finished the airplane quilt for the newest member of the family on my husband's side.
Looking back, I purchased the pattern back on April 11, 2014 and the fabrics at the end of April with the intent to make the quilt for Megan's shower in May. If you follow me on Instagram, you may remember seeing some pictures of fabric and even the airplane blocks around August.
When Megan and Brian found out they were having a boy, they chose a really great grey, white, navy and orange airplane themed crib bedding set. I started looking for a quilt pattern but quickly noticed a majority of the airplane quilt patterns were applique. I do not like applique. I was determined to find a pieced airplane quilt pattern so I kept looking and found this one by onebeelane on etsy.
I had a few problems with the pattern, but I can't say whether the problem was the pattern or me! There were template pieces for the plane parts but I had never made anything with templates before. I mean, I get the general idea, but it wasn't a method familiar to me. I did notice, though, that the measurements of the pieces were on the template drawings so I used my rotary cutter and tried to cut them out that way. After chatting with Kitty of One Bee Lane on etsy convo (she was very helpful, by the way), I realized my block ended up being a little smaller than intended. But it was square and I thought it was cute so I just went with it!
I really loved the method they recommended for making the flying geese. I have to admit, I was not looking forward to making that border, but this method went super quickly and I was done in no time.
I backed it in Minky, as always – a super soft chevron texture from F&M Fabrics. The final measurements are 51″ x 61″, a good grow-with-you size I hope Carter enjoys for many years.