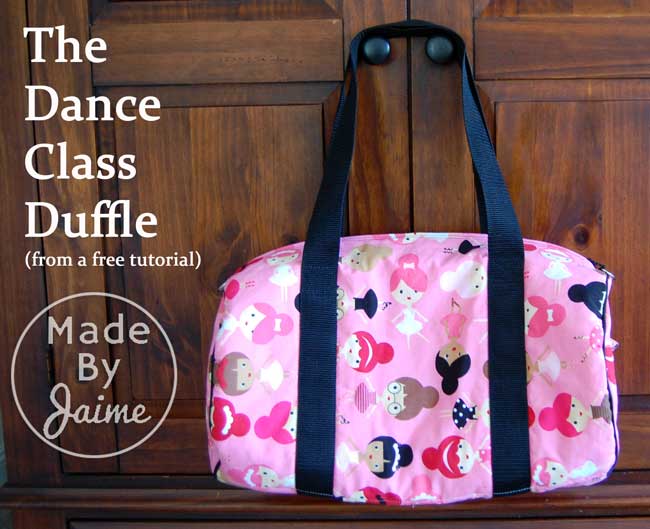 It's back to school time and today we're entering our 4th week of 2nd grade and Pre-K! It has been quite an adjustment for me! Every year I forget how big of a step up it is between the previous grade and the new grade. Every. Year. But I think we've fallen into a good groove. I've been able to cut out a few Necessary Clutch Wallets orders and have been working on them as I find time. But before I started, I used a Saturday afternoon nap time session to make my daughter a Duffle for her new dance class!
This new (to us) class is a combo class with 20 minutes of Tap, 20 minutes of Ballet, then 20 minutes of gymnastics. Of course, this requires at least two pairs of shoes! I looked around at different bag patterns and tutorials, but I landed on this simple Duffle Bag Tutorial by Weekend Designer. My daughter chose this Robert Kaufman Girl Friends print from Quilt Taffy on Etsy. I wanted the bag to have some body so I used some of the baby pink quilted jacket lining I used on her duffle coat last year.
The tutorial provides instructions for just a basic bag, but I knew I wanted to add pockets to separate the shoes and have a spot for a bottle of water.
For each side I cut a trapezoid the length of the bag on one end and as long as I could fit on the fabric I had left over from cutting the body on the other end. It was very scientific. I made a casing in the longer end and threaded in some elastic. This was the top. I turned the other long edge in 3/8″ and sewed it in place where I felt looked right. Then, I basted the side seams even with the edges of the bag center and continued sewing the bag as usual. One side I sewed down the middle to divide the pocket into two smaller. The other I left the width of the bag.
You can see there's plenty of room inside for everything…and eventually those shoes will get bigger. There is also no heating unit in the building where we go to class so in winter, it will need to house all the layers she sheds as she gets warmed up. 
The duffle bag tutorial includes instructions for adding the D-Ring at each end of the zipper, thought I must admit, I initially left this off. I wasn't planning to make a long strap for the bag, but I found the D-Rings aid in zipping the bag open and shut so I went back and added them. 
There is also an outside pocket at one end. To make this I just cut another end piece and cut a few inches off to make it lower and hemmed the top edge.
I finished the bag just before she woke up had it on the counter in our hallway, outside her bedroom. She woke up minutes later and came into the living room with a big smile. "I saw my new dance bag you made me!" 
So then we were both happy with the result! I'm tempted to make myself a bag, as I've also started taking ballet – a long time dream of mine! And brother could use one for his soccer gear…there are 1000 uses!