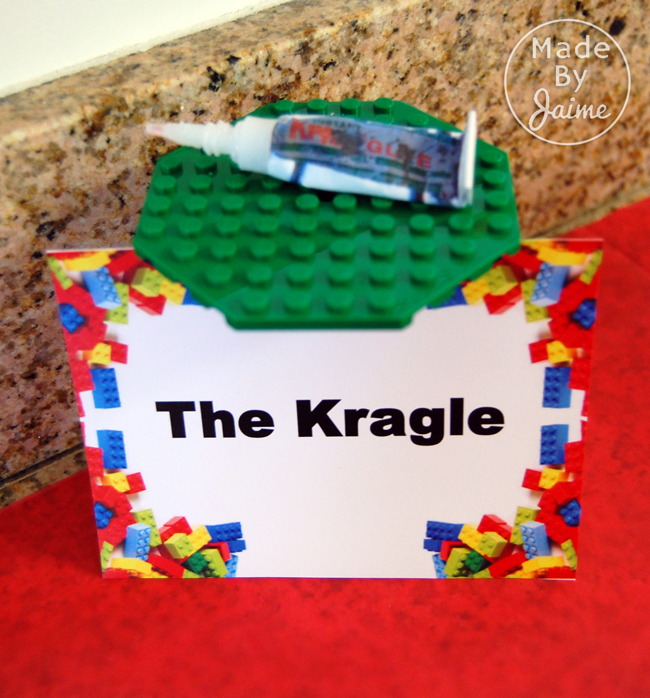 Each year my kids choose a birthday theme and I do my best to search pinterest, sew or otherwise gather supplies to make it come to life. A few years back we did a Super Heroes party. Other years it's been Ninjas, Star Wars, Curious George and Thomas the Train (apparently I didn't blog those). Well my son had a lego theme picked out since his last party, but between then and now the Lego Movie came out so we altered our ideas slightly and here's what we came up with!
I grabbed this "Welcome Master Builders" printable from etsy for the front door and came up with some "Instructions" to follow for the party. I used the free lego border to design my signs here.
Step 1: Design your own Minifigure (get the printable here).
Step 2: Guess the # of legos in the jar. I had Tyler count the legos in the jar and let me know how many there were. I just made up some guess cards (with name and guess) to print on cardstock and used one of my old lego buckets as the entry box.
Step 3: Pin the Head on the Minifigure! I got the tutorial with free printables for this here.
Step 4: Taco Tuesday! This took me an embarrassingly long time to come up with. I was agonizing what to serve for lunch since I was tired of pizza and couldn't really think of a dish that would be kid & adult-friendly and as I was searching google images for ideas I saw it – TACO TUESDAY! DUH! I found a great deal on carne asada taco catering at our local El Taco Fresco and everyone kept commenting on how good it was. WIN!
Step 5: Presents & Step 6: Cake & Ice Cream!
Following tradition, my mother in law Patti came over to make the cake Tyler designed (based on a cake we found online). Tyler grabbed a bunch of minifigures to place all over the cake and we used real legos as the bottom border.
The lego pieces were cut from a second sheet cake and were a REAL PAIN for Patti to ice. I felt like a horrible person as I was cleaning up and saw the mini loaf pan (like this) in my cupboard that would have made that whole process MUCH easier. So far, Patti is still talking to me, since that idea didn't occur to me until AFTER she had painstakingly frosted all the lego pieces, fighting the cake crumbs the whole way. 🙂
I also showed my son this picture and had him make up a few pedestals for our museum pieces.
The party was smaller this year, but the Lego Movie theme was so fun – we had a great time. Happy Birthday Son!