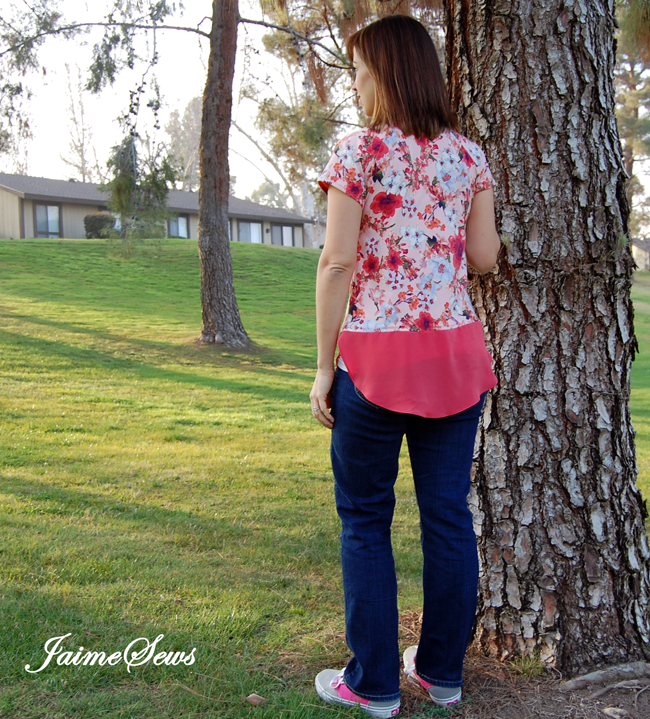 The week before last, I was heading out of town to tag along with my husband while he attended a conference for work. Just before we left, I saw the tester call for Straight Stitch Design's new pattern, the Bellevue Top**. I loved it, but my rational self said I had too much on my plate so I packed up and drove to the coast, all the time thinking about Bellevue. A few days later on our way home, we stopped at the Outlets to see if we could find some treasures. I strolled around Anne Taylor and found a few things to try on, including a shirt that resembled the Bellevue. I LOVED it, but I thought it'd be smarter to buy the pattern and make myself several than to buy just one top – you know, give a man a fish vs. teach a man to fish.
When I got back, Kimberly was asking for a few more testers, so this time I told my rational self to be quiet and jumped on in*! The Bellevue Top** is a clean-line, raglan sleeve, knit top with a woven shirttail accent at the bottom in sizes 00-24. Options include short sleeve, 3/4 sleeve and long sleeve. Woven accent can be sewn right to the bottom of the knit shirt, or add a knit band with it to get the look of a shirt under a shirt. (Hope that's not too confusing! Be sure to check out the tester photos for clarification)
I got the fabric at F&M Fabrics, online at www.thefabricmarket.com. (Check out this blog post for tips on combining knits and wovens!) They had some new floral knits so I chose this mid-weight print and found a coordinating poly georgette on the same aisle! It just feels like spring. 
This pattern comes together SO QUICKLY, it's such a satisfying afternoon sew! It went through 5 revisions in testing so all the kinks have been worked out and instructions updated to cover the variations. It's comfortable for every day, but a major upgrade from a plain ol' t-shirt. This is the Straight Stitch Designs' trademark – simplicity with a twist – and I think it fits the busy life perfectly. I already have fabric and am planning for a second. I think i'll do the band at the bottom this time and maybe lengthen the bodice an inch or two. Stay tuned!
In the meantime, why not head on over to Straight Stitch Designs and grab your copy of the Bellevue pattern**?! The pattern is on sale till Friday for $9.60, but will go up to the regular price of $12 after that!
*In exchange for testing the Bellevue pattern, I received a copy of the pattern for free. However, all opinions are my own.
**Affiliate Link – When you click through this link and make a purchase, I earn a small commission. Thank you so much for your support!