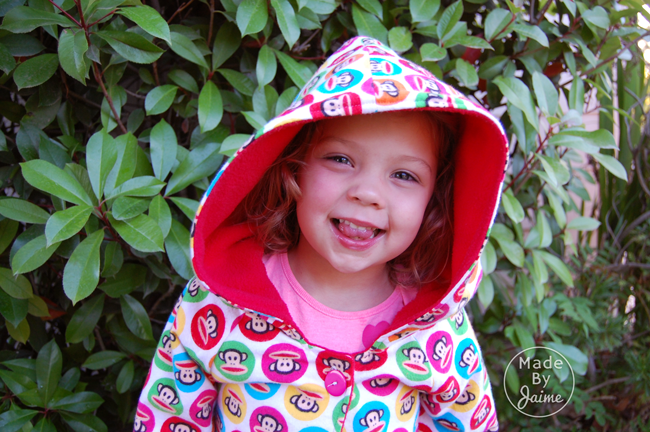 If you've been reading my blog for any amount of time, you know how much I love PDF Patterns. Such instant gratification! Such creativity all at the click of a button! With all the independent pattern designers popping up, women like you and me using their gifts to create lovely designs for us to sew up, it can be hard to keep up on all that's available! That's why sites like DIY Crush Marketplace are such a great resource!
Denise Knapp, of Whimsy Couture Patterns, started the DIY Crush Marketplace with the,  "vision to provide a comprehensive online marketplace for customers and vendors that is fun and easy to navigate." This site is unique in that they don't only have a great variety of sewing & quilting patterns, they also have patterns for crochet, knitting, cross stitch & embroidery! In order to help me spread the word about DIY Crush, Denise offered to let me try one of her patterns. My daughter and I had fun browsing and ultimately chose the Hooded Jacket.
The Hooded Jacket, as all the patterns on DIY Crush, came as an instant download (part of that instant gratification I mentioned!). Due to a netflix recommendation, my daughter has recently taken a liking to Julius Jr./Paul Frank, so when we went to F&M Fabrics (thefabricmarket.com) to pick out our supplies for the jacket, their Paul Frank Flannel was an obvious choice. I lined it in red fleece for lightweight & cozy warmth.
This jacket is a great transitional piece for fall & spring and could be made winter ready with heavier fabrics. Not only that, but it was a super quick sew – I'm talking 1 hour from cutting it's done! Since it's already warming where I am, I tried to choose a size that would work for this coming fall.
I love that the sleeves are super long and meant to be cuffed – that will definitely help this jacket to still be useful in a few months!
I also love the over-sized hood, and sis loved pulling it all the way over her face during the photo shoot – always a joker!
When you purchase your patterns through DIY Crush, they are saved in your account so if your computer crashes or you've misplaced the saved file, you can always log in and find your purchased downloads there. Also, if you are a pattern designer, you can sign up to be a vendor at DIY Crush with a pretty cool set up! You get your own designer page, are in charge of your own pricing and sales, and are paid right away when one of your patterns sells! For all the information on becoming a vendor, click here.
So what are you waiting for?! Head on over to DIY Crush Marketplace now and see if you don't find something you can't live without!
*Fabric and patterns were provided for this post. All opinions are my own.