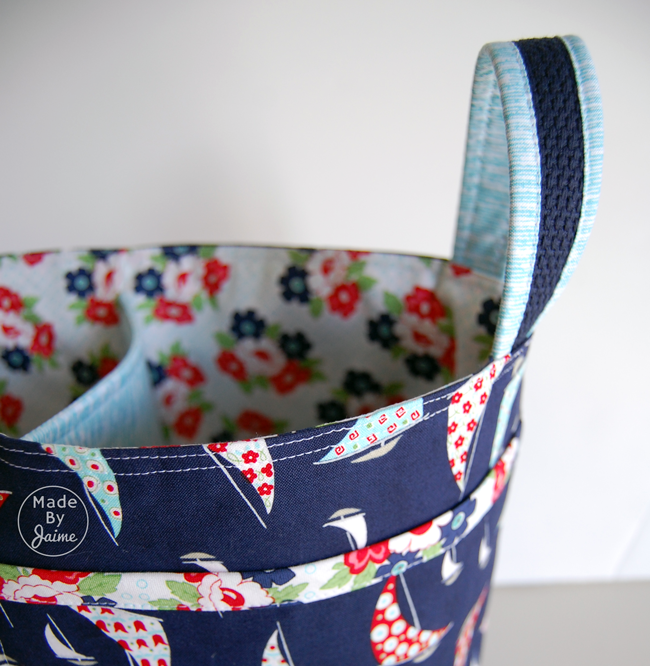 There is something wonderful about sewing for another seamstress. There's such a joyful delight at the thing made and great appreciation for being the recipient. As people who sew for others, putting our heart and soul into the making, it is rare we receive something handmade ourselves, so props to whoever came up with this marvelous thing called a "swap".

I recently shared with you my Rainbow Mini Quilt Swap and last Christmas, my Modern Quilt Friendship Group Mini Quilt Swap, but this time the local MQ(f)G decided to do a Divided Basket Swap. This pattern by Noodlehead is so fun, you'll be trying to figure out who else needs one and what else you can store in one for each room of your house!
My swap partner requested Day Sail fabrics in Navy and Red, but I couldn't help but add in some Aqua Shuffle from the Riley Blake fabrics I had on hand. I used it on the divider and on the handle.
I used a combination of pellon 808 and fusible fleece. It was pretty sturdy, but one of the women made hers with stoft and stable and I loved the feel of it. I really need to try that sometime soon! The front had a pocket, trimmed with the same fabric as the lining. I divided it in two by sewing a straight line down the middle. The back is all sailboats.
I also made this little *extra* from a FREE Heather Bailey Pattern – The Square Deal pin cushion. They're so cute – my daughter immediately put it to her head like a pillow, hugging it with her eyes closed. 🙂
I requested Cotton + Steel fabrics from my partner and was so happy that she used some prints I don't own! She made the handles entirely from fabric, which is also an option in the Noodlehead pattern. I love this little basket and can't decide whether to put it in my bedroom or in my sewing space!
The other advantage in participating in a swap, especially locally, with other seamstresses, is you get to enjoy their creativity. The first time through a project, I stick pretty close to the directions. After that, I feel like I can veer off from the path, after I know the ins and outs of said path. But check out these pieced baskets! (It is a quilt group, after all) It didn't even cross my mind to add quilty elements, but it's definitely something I will look to add in the future!
On this half dresden basket, Pam used double sided fusible interfacing so after sewing in her lining, she ironed on the inside as best she could to fuse it to the other side of the interfacing used on the exterior. It was super firm, which I really loved.
I can't wait to make more of these and play with the interfacing a bit. I think this will be my new go-to gift for baby showers. I know quilts are special, but babies receive lots of blankets and burp cloths. They grow out of clothes WAY too quickly for the time put into handmade items, but in the right fabrics, these baskets could be in their rooms for years. And lets face it, even if they're only useful during the diaper stage, anything that helps during the diaper stage is greatly appreciated!