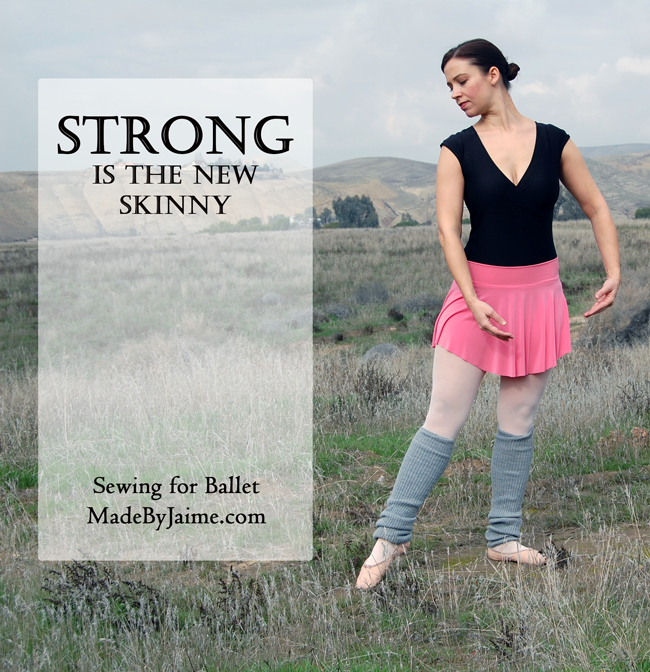 Happy New Year Everyone! Thanks for stopping by my stop on the Strong Is The New Skinny Blog Tour!
I love the fresh start offered by the new year – the chance to evaluate last year and make plans for this one. I had a few goals in mind for 2016, but when I saw Becca's call for the Strong is the New Skinny blog tour, I knew it fit in perfectly with how I've been thinking recently about my personal health & fitness. I also had some fitness projects in my sewing stash I was hoping to finish for January so hopping on the tour was a given!
My Fitness History
I didn't love running in Jr. High. I did a kind of walk run that was mostly walking. Later in high school I took a weight lifting class. I cried after the first class because a cheer leader could effortlessly lift more than I could. In college, I joined a gym after gaining my Freshmen 15, but didn't really know what I was doing there. After school & newly married, I reminisced about a handful of cardio kickboxing classes I took briefly at the end of High School and remembered having a good time, so I grabbed a used copy of Tae Bo to do at home between gym sessions with my husband. And that is what I stuck with for YEARS. I mean, I could probably do the original Tae Bo series in my sleep! (How's that for a hidden talent?!) After I had my son I took up running and ran my first 5k, but I've pretty much kept up either with running or some version of cardio kickboxing for the last 10 years.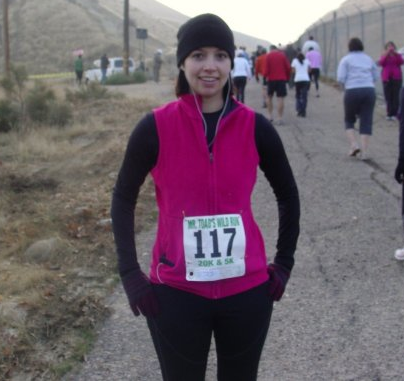 I had also tried out various ways of changing my eating habits. I tried low carb, a vegan/gluten free/dairy free three week cleanse, added green smoothies to my diet, etc. And of course, there was the negative body image we all struggle with in one way or another – a problem area here that plagued me, the doing too much then getting burned out and doing nothing.
New Adventures
Early in 2015 I was ready for a change. I found it more and more difficult to be excited about the same old videos and keeping up with extreme meal plans was exhausting. Plus there's #momlife and leftovers that need to be eaten. I started to crave a more balanced approach.
As a teenager, I started to think maybe I'd like to try ballet. I loved Audrey Hepburn, who was a ballet dancer before she became an actress, and I was drawn to the beauty and delicacy portrayed by ballerinas. I've talked about it off an on for several years, but this past year, I finally found the courage to find an adult beginner ballet class and took the plunge. I am so thrilled that I did.
When I talked to the instructor at one of our local studios, she let me know the best time to start would be in 2 months time, since they were currently in the throws of choreography for the upcoming show. I was like a little kid, counting down the days and gathering the appropriate ballet-wear. It only took one class to confirm that ballet was everything I had hoped for, but what wasn't completely evident to me was the strength required to look that effortless! I fell in love with the new challenge, with the idea that ballet couldn't be memorized on a video and repeated ad nauseum, with the guidance and instant feedback from the instructor and the experience and camaraderie of a live, group class.
Ballet has also given me a positive goal for my fitness. Whereas before I was focusing a lot on how I looked, now I find myself wanting to be strong so I can dance better! This is a huge shift in my thinking.
Sewing for Ballet & Dance
Last spring while I was dreaming of starting ballet, I purchased this pattern, Kwik Sew 3671. It is out of print but you can still find it on the Kwik Sew website and uncut copies on etsy & ebay.
In sewing for ballet or dance, lycra is king! If you haven't sewn with stretch fabrics before, do not fear! Just make sure you have a ball point or stretch needle to use with your machine. You will be using a stretch straight stitch or narrow zigzag stitch on your home machine or your serger.
This clear lightweight elastic I got from Wawak is great for swim & dancewear. You can also use cotton elastic.
I had made swimsuits before so I felt comfortable with the fabrics and techniques, but I wanted to feel the fabrics for this project, their weight and stretch. So I headed to my local store, F&M Fabrics (online as thefabricmarket.com). There are several local theaters in town between the high schools and the melodrama, not to mention the dance studios, and everyone knows F&M Fabrics has the best stretch fabrics for costumes & dance. I was lucky enough to grab a few yards of this black spandex as the bolt was taken off the delivery truck that day, as it is difficult for them to keep it in stock!
I also grabbed a thinner pink fabric to make a skirt. I started a ballet pinterest board as soon as I knew I would be taking classes and pulled up this tutorial. It went SO FAST – I mean if you cut straight, you don't even have to hem it. There are no side seams, just cut, attach the waistband and you're done!
This particular leotard is so comfy to wear and I love the simple elegance. The one I purchased above for my first class just doesn't fit well – it's too short in the torso and I don't feel great wearing it. I actually broke the Kwik Sew rules and blended sizes to get the perfect fit (it actually says in bold letters not to blend sizes – I now REBEL!).
Since I've started ballet class, several of my friends have expressed their long held desire to be a ballerina. I cannot stress this enough – if this is something you've been thinking about, find a class and GO FOR IT! You will be re-inspired, learn something new, make new friends and have lots and lots of fun along the way.
A photo posted by Jaime Johnson (@madebyjaime) on

I hope you are inspired and if you want more inspiration and fitness sewing tips, check out the entire tour!
I feel silly even needing to state this disclaimer, but "better safe than sorry," they say. The talented women participating in this tour are NOT trained physicians (unless they state otherwise). I hope you find their testimony encouraging and motivating – but they are NOT adequate substitutes for the advice of your own doctor, trainer, or other health professional. Please consult an expert before adjusting or creating your own fitness regimen.