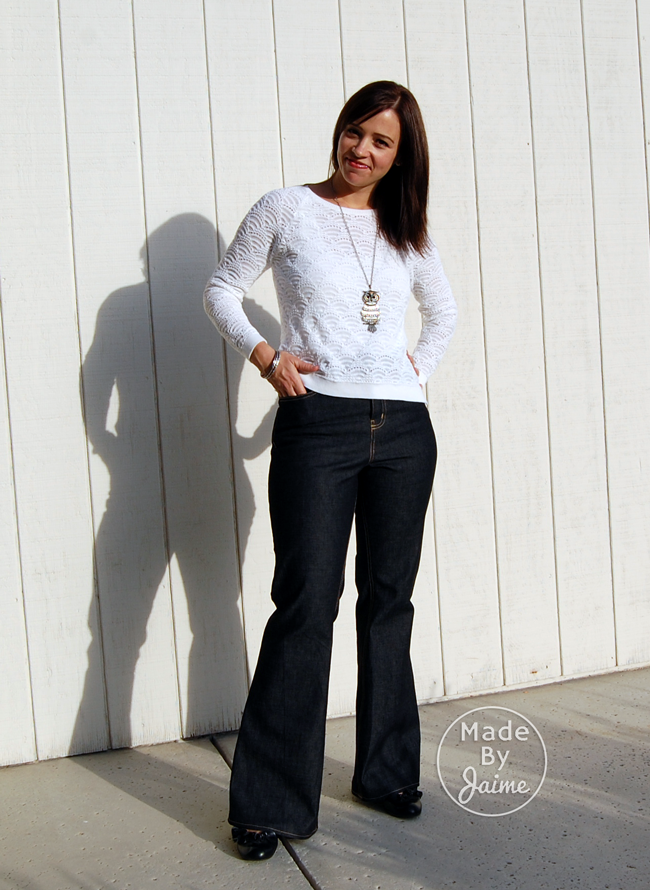 If you've seen the #birkinflares all over instagram and have been anticipating their release, let me happily inform you that THAT DAY HAS COME!
Lauren at Baste+Gather has crafted a wonderful & unique jeans pattern that are flattering and enjoyable to make. I applied to be a tester a few weeks back and was so bummed to miss first cut. However, two weeks ago I got called back for the second round of testing! Let me tell you about the pattern details so you can bail after that if you want. Then I'll tell you how testing went and what adjustments I made to get them to fit me just right.
From the pattern description, the Birkin Flares are, "Inspired by 1970s fashion icon Jane Birkin, the Birkin flares are a high-waisted, flare-leg, classic jean. These jeans feature a universally flattering high waist (but not too high) with classic five-pocket styling, a curved yoke and a straight-cut waistband. The Birkin Flares are equally perfect with your comfiest tee or a flowy, silk blouse, and the inseam can be adjusted in multiple ways to lengthen/shorten or create a deeper hem. In waist sizes 24-35, the sizing closely mimics that found in ready-to-wear, designer jeans."
Use code 'birkinrelease' for $2 off the pattern now through Sunday, December 13th! Also everything else in her shop is 50% off so go grab all the patterns.
The Birkin Flares pattern calls for a denim with at least 2% spandex/lycra/elastane and I was over the moon to find that TheFabricMarket.com has just such a denim for $3.99/yd! This was good since I grabbed several yards anticipating making a practice garment for fit and then the final version.
I was super surprised at the fit of my trial pair. I had made jeans a few years before – before I was blogging what I made – and I ended up giving them away because even though the fit was ok, they just looked like home made jeans. It could have been due to the denim I used or that my techniques weren't where they needed to be at the time, but when I put on my first pair of Birkins, I was more than pleased!
At this point I took a little detour. It can best be summed up here:
I made some alterations to the pattern, but I went a little too far and instead of being happy with just a full thigh adjustment, started making other random adjustments to try to get the fit just perfect. I cut my second pair and quickly entered into step 3 above. Then spiraled into step 4. The tester group was awesome in bringing me back to reality! The online sewing community is  so great! So I scrapped version 2, went back to the original pattern and just did the full thigh adjustment and got myself quickly through step 5, 6, &7. I'm so happy with my 3rd version!
I wasn't sure how I felt about the higher waisted jean at first. They do reach up to my belly button, but I wore them after the photo shoot for the rest of the day and something funny happened. They became more and more comfortable! Like jeans always do, they started to shape to my body and I began to love them more and more. I wore them the next day and I plan to wear them often in the future.
A fun consensus in the tester group was how nicely the Birkin Flares pattern accentuates ones back side. Now everyone can deal with that! This is a jean pattern you definitely will want in your pattern stash and rumor is Lauren's working on a skinny version too! Don't wait – go grab the Birkin Flares now – $2 off with code 'birkinrelease' and 50% off the entire shop through 11:59 pm Sunday, December 13th!