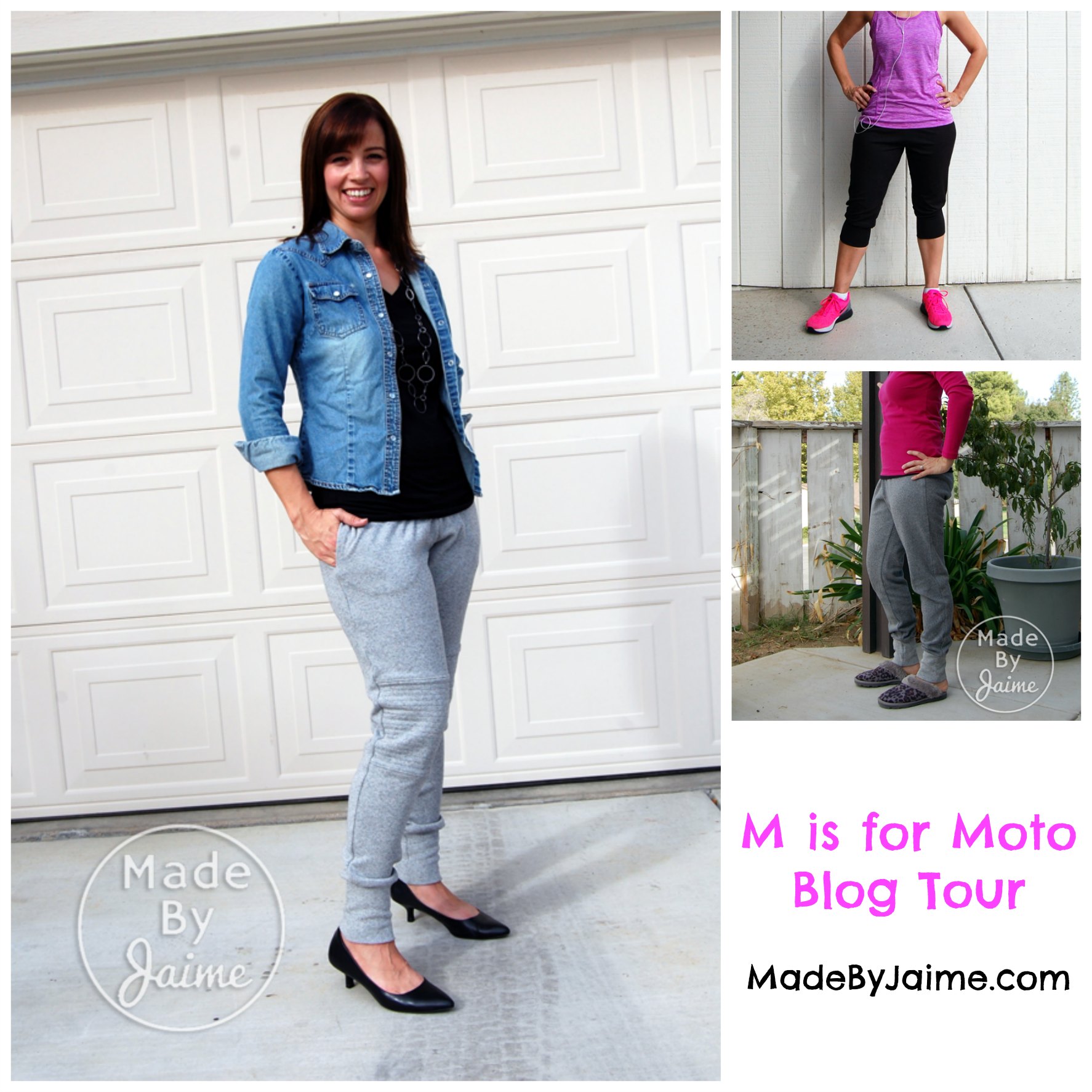 You guys!!!!!!!!!!! I'm so excited to share this pattern with you and be a part of the M is for Moto Joggers Pattern Tour!
As you may know, I've made wedding dresses. I've made quilts. I've made kids clothes. I've made wallets. I've made stuffed toys. But I rarely make or even buy lounge wear. However, the M is for Moto Joggers Pattern*, the first women's pattern from Hatchlings Patterns, has changed all that for me. This style has been around for a little bit and I'm not usually the type to jump on every new trend, but I'm definitely sold on this style even if it is a little late in the game. I've made three versions taking advantage of several of the pattern's options so I hope you'll stick with me through the whole post to see how versatile this pattern is!
The first version I made is a size large, full length, no pockets, original waistline. My measurements fell in between medium and large so I felt it was safe to start with Large and take in if need be. I wanted to make the simplest version first to see what I had to work with. I got the fabric, a soft, stretchy, warm, mid-weight knit, at F&M Fabrics locally. For those of you not in the area, they are online at www.thefabricmarket.com. This fabric is interesting on both sides so I made the main part in the stripe and the cuffs in the grey sweater look on the reverse side. These pants are SOOOOOOooooo comfy.
I felt like these were the "loungiest" version I made and the waistline is very generous. Hatchlings Pattern describes the pattern like this: "The pattern is designed to sit 2 inches below the natural waist, with extra room across the hips, a very slightly dropped crotch and skinny/tapered legs."
They are roomy and comfy and I definitely see myself on Saturday morning with my coffee and iPad loungin' on the porch (after soccer season, of course).
The second version I made in size medium in the capri or under-knee length. This fabric is also from F&M Fabrics/TheFabricMarket.com, but its a super soft, lighter-weight charcoal knit. Out of personal preference, I lowered the waistline 3.75 inches so it sits more on my low waist/hips.
These are PERFECT for workouts and I fully intend to wear them to ballet class if it should ever cool down here in CA. Hopefully you can see where the waistband hits me here.
This version is loose in the right places, stretchy where you need it and the cuffs will keep the pant leg in place even with active movement. I want to wear these all the days….
For my third version, I wanted to use the back side of the version 1 fabric for the whole garment. Since it's more of a solid, I thought it would be a great chance to add the moto detailing. I also really regretted not putting the pockets in my first version. So Version 3 is size medium, lowered waistline with pockets and quilted knee. I was cruising Pinterest for how to style my new moto joggers and was inspired by this look
So I grabbed what I could to try and replicate it from my closet.
I think it's so fun how this style can go from lounge to workout to every-day! This pattern has many more length options and I love, love, love the waistband construction – just align the elastic with the pants top edge, serge in place, fold down and stretch-&-sew a few rows. No extra waistband piece, not threading the elastic through a tube. After making my first pair, the second pair was done in an hour, cut to wear. And while the more trendy styling is fun, we all know this picture below will be me most every weekend from now until spring!
The M is for Moto pattern* is currently on sale for $9 AUD which is around $6.50 USD and it will be at that price for the duration of the tour! If you have not jumped on the jogger bandwagon, now is the time to join the rest of us in this comfy goodness! And be sure to stop by to see all the other versions on the tour:
October 26th
Paisley Roots, Sew Not Perfect
October 27th
Create 3.5, Miss Castelinhos, Fa Sew La
October 28th
Whisk 'Em, Nap Time Creations, Made By Sara
October 29th
Friends Stitched Together, From A Box, Made By Jaime
October 30th
Max California, House Of Estrela, Made By Amanda Rose

October 31st
Rebel and Malice, Ma, Me, Mi… Mo 
*Any link marked with an asterisk is an affiliate link. If you make a purchase after clicking the link, I will earn a small commission. Thank you for your support!