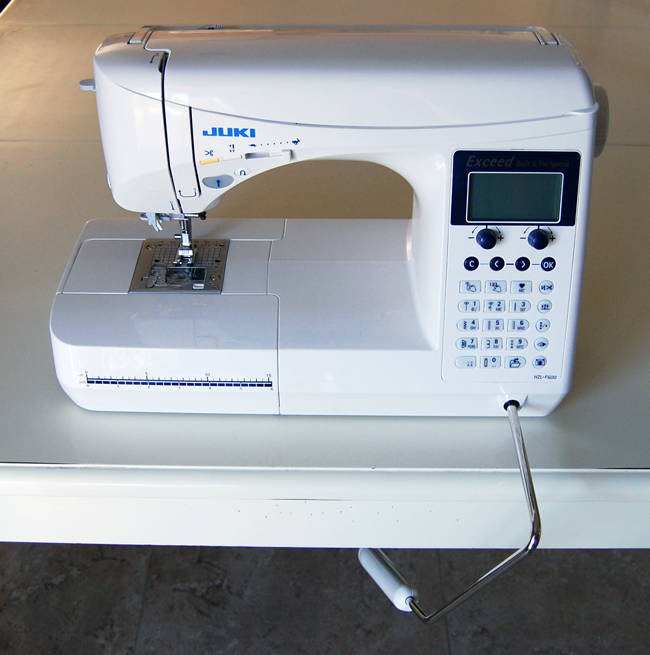 I've been keeping a secret I can no longer hold in and I can't wait to share with you today! I'm sure it's not a shock for those of you who saw one of my machines up for sale, but I have purchased a new sewing machine, the Juki HZL-F600 and I am IN LOVE! A few years ago, SewMamaSew collected a list of blog posts reviewing a WIDE variety of sewing machines. I am going to use their questions below in my review of this machine, but if you're in the market for a machine and want to know what real people think about them, check out their review list here!
What brand and model do you have?
I have the Juki HZL-F600
How long have you had it?
I have had this machine for about a month and a half
How much does that machine cost (approximately)?
I found a range for the machine from $925 – $1,099
What types of things do you sew (i.e. quilting, clothing, handbags, home dec projects, etc.)?
I sew mainly clothing and occasionally quilts. I have aspirations to get into wallets and handbags too!
How much do you sew? How much wear and tear does the machine get?
I sew almost every week and my sewing is split between this machine and my Juki Industrial, depending on what each project requires (My industrial only does a straight stitch).
Do you like/love/hate your machine? Are you ambivalent? Passionate? Does she have a name?
I LOVE this machine. I was very skeptical and slow to get too excited. I didn't want to be let down. But when she came, I pulled her out of the box and I just giggled at how smooth the machine ran and how well it fed the fabric. I used to sell Viking and Pfaff sewing machines (years ago) and knew they were quality machines, albeit out of my price range. When I started to look for a new machine, I made my decision for Juki because The Exceed series models boast the same feed dogs system as the industrial. I'm sure you all are sick of hearing how much I love my industrial, but it feeds so straight and strong and it's so FAST, it's been almost painful to use a home machine when I needed to (for buttonholes or for sewing knits, etc.). Since I got this machine, I have created entire projects on this machine, even when I could have done some work on my industrial so that is saying A LOT about how much I love this machine.
What features does your machine have that work well for you?
I will start off saying there is no way I will use all the stitches on this machine. There are 3 fonts and many decorative stitches. The features I was interested in were the knee lift (also a feature on my industrial), the extended table, the walking foot and the box feed system. The lowest Exceed model would have been perfect for me, but the F600 comes standard with the walking foot and the extended table – both of which cost about $100 each. After I got the lower machine and added those two items, I wasn't that far from the F600 in price so I just went big. After all, I do sew a bit so I felt it justified "going big".
That said, I have used and enjoyed all those features, but what I am really enjoying is the thread cutter. This works three ways: One, I can simply push the scissor button whenever I want to cut the threads and pull the project off my machine. Two, I can push a button before starting my seam that will tie off and cut the thread at the end of my seam when I push the reverse button to indicate I'm at the end. Three, If I press my heel on the back of the foot pedal it will cut the thread for me and, used in conjunction with the knee lift, I can enjoy sewing with the full use of my hands on my project instead of fussing with the machine.
I absolutely LOVE the needle down position by default. It's so nice to have my work anchored in place when I stop sewing. The speed control is great for me when using the walking foot – I can now force myself to go the medium speed recommended for use with that foot, instead of accidentally putting the pedal to the metal like I'm used to. It will also be useful when the kids start sewing, if I'm brave enough to let them use this machine. 🙂
My last machine had an automatic buttonhole, but I like the one on this machine better. You simply put the button you're going to use in the buttonhole foot and it automatically creates buttonholes perfect for that button…all the way down your shirt. LOVE. I could really have used this when I produced for Zulily last July! 66 buttonholes – eesh!
I also love the automatic threader, though I don't expect it to last the life of the machine. The parts are so delicate. I know when I sold machines, the automatic threader was often a problem.
Is there anything that drives you nuts about your machine?
The only thing so far is that sometimes the shank gets stuck up in the machine and I have to manually pull it down. I addressed this right away with the dealer and they suggested some oil at the top of the shank and then lift and lower a few times using the knee lift. So far this has done the trick, although it has happened once more after the initial oiling. But I love everything else about the machine. I'm really hoping this won't cause any major problems in the future.
Would you recommend the machine to others? Why?
I would absolutely recommend this machine to anyone and everyone. I wish I could try out the lower models since most people who ask me about machines have a different budget in mind. I would like to think the lower models are just as good, but I have not sewn on them. So far with my two Juki machines, it would be safe to say I'm a Juki girl.
What factors do you think are important to consider when looking for a new machine?
I think it's smart to buy a starter machine when you are getting started to figure out what you like to sew. A sewing machine is a tool and each type of machine has a different purpose, just like power tools. Once you know what you like to sew, you will know what features you would like and which aren't really necessary. Quilters need that extended table and the walking foot and the needle down and knee lift are great luxuries. Purse and Home Decor require a machine with real guts as well as some specialty feet for piping, etc. Garment sewers will look for other features. But if I had to narrow it down to the basics, the most important factors are the feed and ability to adjust the settings. Even if some things are automatic on a machine, it's nice to have the ability to manually adjust things like tension, stitch length and width.
Do you have a dream machine?
I DO! I don't anticipate needing another home machine again. Maybe a sailrite walking foot machine or a second serger, but I've found my dream home sewing machine for sure!