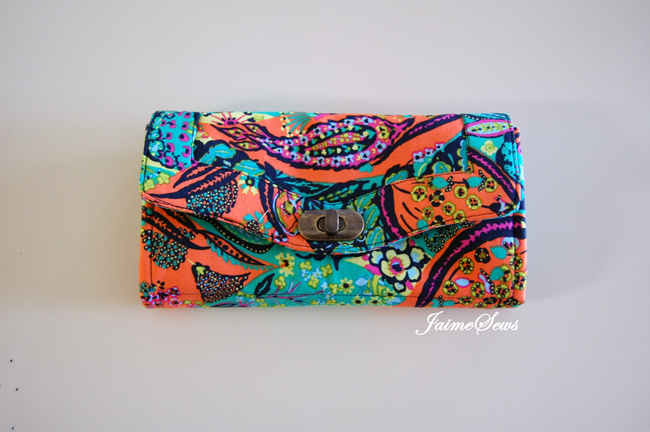 Hey Friends! It's Monday again and I can't wait to show you one of my favorite projects of recent!
But first, I want to make sure you've checked out the Ultimate DIY Bundle* – over 76 eBooks and eCourses covering topics like Crafty Business, Photography, Digital Scrapbooking, Holiday Crafting, Home & Garden, Home Decor, Art Journaling, Writing & Sewing (including several patterns from well-known PDF Pattern Designers!). There are also incredible bonuses included like a free Craftsy Class, Gift Certificates, & Free Magazine downloads from Where Women Create & Greencraft Magazine. An amazing value at $34.95 and available only through today! Click through* to see all the details!
(I am an affiliate for the DIY Ultimate Bundle – when you click through my links, indicated with an *, I earn a small commission. Thank you for your support!)

There are a few patterns that are blowing up my instagram feed & showing up in my facebook groups and the Necessary Clutch Wallet by Emmaline Bags is one of them. I decided to make one up for my sister for Christmas. Now, my sister is 4 1/2 years younger than me and so I tried to find a fun & fashionable fabric combination to match her young, hip self. 😉 
The Necessary Clutch wallet in it's original instructions walk you through this lovely turn lock application, which you can purchase from their website here. You could use a magnet or a tongue lock, but I just absolutely adore the professionalism added by the turn lock. The locks from Emmaline Bags are unique in that they are attached with tiny screws so it's worth ordering from her in Canada. The shipping is so reasonable and very quick!

The glory of the Necessary Clutch Wallet is the inside. There are two sets of 6 card slots, a zipper pocket and an additional divider in the center. Not to mention, behind each credit card slot section is an open pocket for your check book or cash or fabric store coupons. There are instructions for adding a D-ring and wristlet strap for times when you want everything from your wallet but don't want to schlep around your whole purse. I love that it's removable so you can use it or not.

After making one for my sister, I just had to make one for myself. I previously carried two wallets, one for my personal finances and another for my business finances so the idea that they could co-exist in one glorious wallet was exciting. I chose to cut into my Cotton+Steel for this one and I used the nickel turn lock.
After making my first wallet, I joined the NCW Addicts facebook group. This is a great group to join for support and to share your creations, but they've also compiled several add-on tutorials in the files for adding things like a double zipper pocket, a back zipper, a photo ID slot and much  more! I chose a few of those additions when making mine.

I've been using this wallet for a few weeks now and I have to say it is as great as I hoped. My business cards fit all on one side and my personal cards on the other. I can carry both check books behind the cards, save receipts and loyalty cards and it doesn't feel cluttered or overwhelming. It is very versatile and exactly fits my needs. The Necessary Clutch Wallet pattern comes as a paper pattern or a PDF, and you can get your purse locks and interfacing kits all at the same place. My sister in law has already given me fabric for me to make her one – I see many more NCWs in my future.