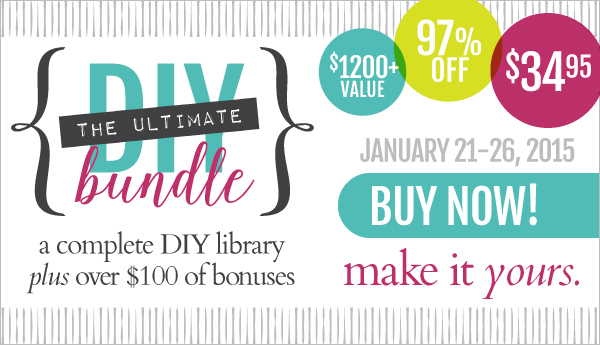 There aren't enough hours in the day, right? With work, helping the kids with their schoolwork, preparing meals, cleaning up after everyone and putting yet another load of laundry on, there's very little time for sleep – let alone DIY and crafting!
But do you look at that bare wall in the den and that tatty tablecloth on the kitchen table, and just wish you had a few hours to do something about them? Or do you browse through those wonderful crafting successes on Pinterest and think to yourself that "one day" you'll have a few more minutes to yourself so that you too can create something incredible?
You're not alone – there's a huge community of people out there who are feeling just as frustrated as you are!
Thankfully there's an amazing new resource to help you quickly and easily get into (or back into) the creative projects you've been desperate to start. It's called The Ultimate DIY Bundle, and it's a collection of carefully curated DIY and crafting eBooks and eCourses from the world's leading authors and bloggers in the industry.
For the crazy low price of just $34.95, you get access to a carefully curated library of over 76 eBooks and eCourses. And let me reassure you that this really is great value: the Ultimate Bundles team (who produced the resource) has spent MONTHS seeking out the most respected experts in the industry and asking them to contribute their premium-quality eBooks and eCourses. These really are the best of the best when it comes to DIY and crafting advice and information.
Not to mention, I was able to pick up my own bundle a few days early and I'm personally blown away by the value! Aside from the ebooks and courses, there are 9 PDF sewing patterns from Designers like SeeKateSew, Mouse House Creations, Gingercake, Go To Patterns & two quilt patterns from Allison Glass (!)  – even if you bought them at $7.95 each (some have a retail value of $10 & $12!) you'd be paying over $70! But then you get everything else too. The Family Writer's Club from Playful Learning is something I hope to use for our Homeschool, but is great for any family.
Topics in the bundle include:
Home decor
Furniture painting
Photography
Chalk pastels
Handmade gifts
Homemade skincare products
Cake decorating
Photography and photo-editing
Paint colors and interior design
…and a whole lot more (76 eBooks and eCourses in total) – to help you be inspired or get started with your next DIY or crafting project!
There's no need to worry about information overload though: The Ultimate DIY Bundle comes with a complete guide to getting started, so that you can know exactly which resource to use for your specific crafting or DIY project and jump straight into it with confidence!
Hurry though! The Ultimate DIY Bundle will only be on sale for 6 days – from 8am EST on Wednesday, January 21 until 11.59pm EST on Monday, January 26.
You can buy with complete confidence because you're covered by the Ultimate Bundles 30-day money-back guarantee. That means you have a full 30 days to enjoy all the eBooks and eCourses in the bundle, and if you don't think they provided enough value, you'll get a full refund.
Not only that, but The Ultimate DIY Bundle comes with 4 awesome bonuses, worth over $118. That's 3x the price of the bundle alone! These include…
A free $15 Store Credit PLUS 8×10 Art Print from Hope Ink ($43 Value), a free online class from Craftsy (up to $60 Value), free $15 store credit to Fawnsberg.com, and a free sewing pattern PLUS a Premium Video Class from UpCraft Club ($19.99 Value).
So, don't miss your chance to grab The Ultimate DIY Bundle, and get 76 incredible eBooks and eCourses for just $34.95. All you need to do is take action by midnight on Monday, January 26!
This amazing deal ends in just…

Pick up your copy right now, before it's too late. Or, learn more here.
Disclosure: I have included affiliate links in this post. Read the fine print about this bundle and read the answers to frequently asked questions about the bundle.