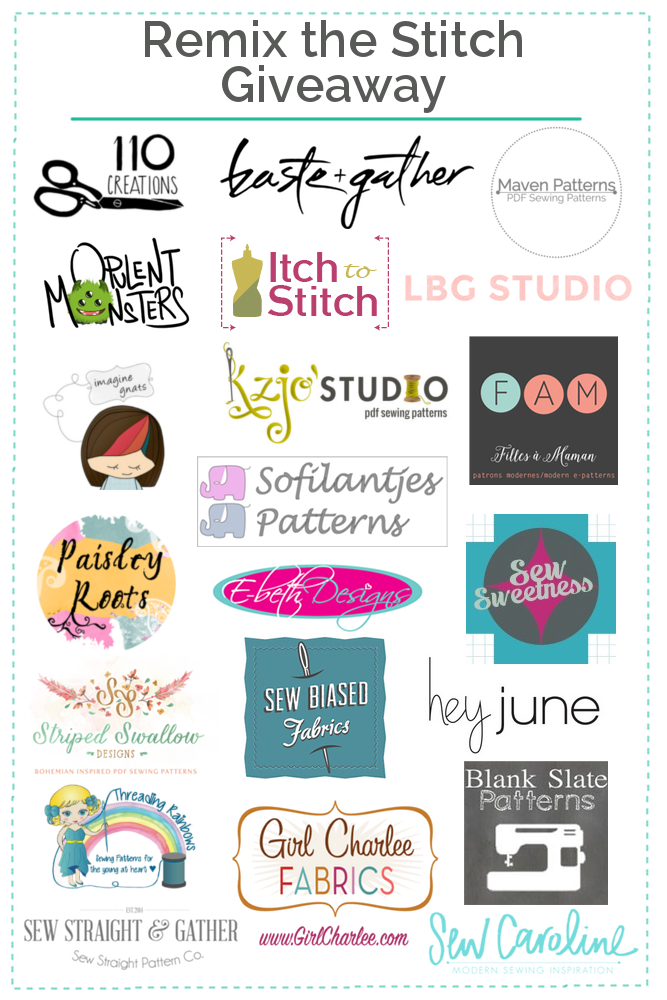 The sewing blogosphere is such a fun community to be a part of and I've so enjoyed making new friends and getting to know some new independent PDF pattern designers over the last year. One of them is Kimberly at Straight Stitch Designs!* Kimberly is the designer of the Bellevue Top & Ballard Top, which I've helped in the testing phase, but honestly, I think I own every one of her patterns! Her style is classic with an interesting twist and I'm so happy she's done well this past year!
This month marks the Straight Stitch Designs' 1 year anniversary and when Kimberly put the call out for bloggers to help her celebrate, I jumped at the chance! Kimberly has asked us to "Remix the Stitch" – take one of her patterns and put our own twist on it, mash it with another pattern or otherwise have fun with it. It's a great way to celebrate, I think, and I can't wait to see everyone's style!
During the Remix the Stitch Blog Tour, Kimberly will be offering 50% off all of her patterns*, both pdf and paper! She also sells Stitch Kits and they will be marked 40% off. This sale will run from September 7th until September 20th.  No code necessary.
There is also an incredible giveaway including fabrics and PDF patterns, so you want to be sure to come back to enter!
It all starts tomorrow and all of the designers are linked up here:
Tuesday, September 8th
Meg Cookin' and Craftin' | Jennifer Ginger Peach Studio
Wednesday, September 9th
Ajaire Call Ajaire | Heidi Handmade Frenzy | Stacey Boy, Oh Boy, Oh Boy Crafts
Thursday, September 10th
Melissa Rebel & Malice | Annika Näh-Connection | Abby Sew Much Ado
Friday, September 11th
Katie It's Hard to Hear Up Here | Jane Buzzmills | Lisa Mabey She Made It
Saturday, September 12th
Elena Randomly Happy | Allie Indiesew | Jess If Only They Would Nap
Monday, September 14th
Jaime Made By Jaime | Lauren BASTE + GATHER | Sara Made by Sara
Tuesday, September 15th
Audrey Skirt Fixationy | Teri Fa Sew La | Hayley Welcome to the Mouse House
Wednesday, September 16th
Emi Just Add Fabric | Rachael Imagine Gnats | Teresa Dandelion Drift
Thursday, September 17th
Kaysie | KZJO'STUDIO Rita Conversas de Hermanas | Stephanie Swoodson Says
Friday, September 18th
Andreia In a Manner of Sewing | Nienke Pienkel | Abbey Sew Charleston
So I'll see you next Monday for my stop on the blog tour – can't wait to show you what I've come up with!
*All links with an asterisk are affiliate links. If you make a purchase through this link, I earn a percentage of the sale. I appreciate your support!