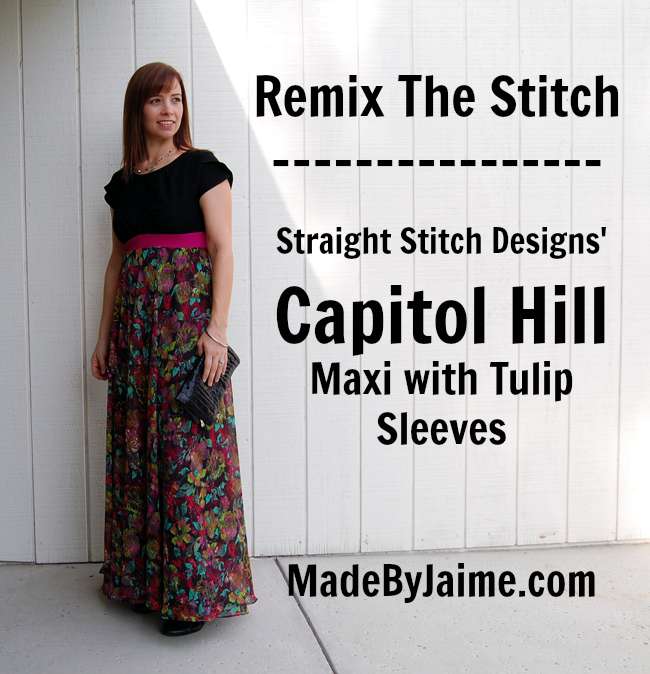 Hi there! I'm Jaime of MadeByJaime and I'm so glad you've stopped by! I'm up today on the Remix The Stitch Anniversary Tour & Giveaway with my twist on Straight Stitch Designs' Capitol Hill. Just for reference, here's Kimberly of Straight Stitch Designs rockin the original version of the Capitol Hill:
Kimberly describes it this way: "CAPITOL HILL is style meets comfort with a scoop neck, double pleat detail at the front and 3 skirt options.  Make the Capitol Hill as either a dress or a tunic with elbow or long sleeves.  You can go for classic with a gathered skirt in both knit and woven or mix it up with a half or full circle skirt.  You can also band the sleeves or just do a simple hem."
About a week before really thinking through what I was going to do to remix the Capitol Hill, my local fabric store posted this glitter chiffon fabric as a part of their weekly Create This Look. I couldn't get this fabric out of my mind so when I had a kidless hour, I ran down to F&M Fabrics (online at TheFabricMarket.com) and picked up 3 yards. You guys…it's 3.99 A YARD and comes in 3 color ways! I also found a really stable mid-heavyweight knit and got several yards of that for the bodice and underskirt and got to work.
I cut the bodice and waistband first. I had a remnant of a bright pink knit but it was much thinner than the black knit I was using for the bodice and I was concerned it wouldn't hold up the layers of the skirt I was planning. So I also cut the waistband in the black knit and layered them together as one fabric. I must stop here to say Kimberly has included a short video on how to appropriately fold the front bodice pleats so if the instructions are confusing for you in any way, the video clarifies everything!
Once I tried that on and knew it fit, I moved on to the skirt. Because the knit's thickness, I was concerned that a half circle skirt would be a little much so I used this tutorial to cut an a-line skirt from it. In this episode of True Sewing Confessions, I must tell you, I did not appropriately account for my hip measurement and it turned out quite snug. At first I liked how it felt – kind of like built-in spanx! But I realized, after getting it all together, that it would start to ride up and affect the drape of the bodice. I fixed it after the fact by opening up the side seams and adding gussets (triangle pieces of fabric) from just above my hip to the hem. This allowed for better movement and overall drape of the dress.
After cutting the under layer, I used the half circle skirt pattern piece included in the Capitol Hill file to cut the chiffon. I just opened up the chiffon and folded the 3 yards in half and instead of cutting on the hem line included, which is knee length, I just continued cutting to the fabric edge. I used a measuring tape to find out how far beyond the pattern that took me (22.5″ if I remember correctly) and just marked that distance across the entire bottom edge with chalk. I used that as my cutting line and the length was generous enough to have some room to work with, but not wasteful (for reference, I'm 5′ 7″).
I knew I wanted to do something different with the sleeve to continue to mix it up, but I didn't have it nailed down at the outset. I briefly thought about making the neckline and/or sleeves from the chiffon, but it quickly went from nod to the 70's to over-the-top so I used the black knit for the neckline and decided to use the Capitol Hill Sleeve pattern to draft a tulip sleeve.
I used this tutorial but drew 2″ down from the under arm seam, instead of 1″ as instructed. I also added 1/2″ seam allowance to the bottom edge only after drafting, as the sleeve cap and side seams already included seam allowance.
The black is such a strong color, I worried the elbow length or long sleeves would overpower the dress. I absolutely love how the tulip sleeve turned out – I think it adds some subtle femininity in line with the flowy floral.
I hadn't made the Capitol Hill before so I had fun exploring it's possibilities and remixing it as I went. The pattern itself offers so many options without remixing, but it is definitely a pattern you can add your own flair and style to.
Don't forget, Kimberly is offering 50% off all Straight Stitch Designs patterns* (PDF and paper) and 40% off her Stitch Kits now through September 20th and you can see it all here*. See all the other Remix the Stitch styles here:
Tuesday, September 8th
Meg Cookin' and Craftin' | Jennifer Ginger Peach Studio
Wednesday, September 9th
Ajaire Call Ajaire | Heidi Handmade Frenzy | Stacey Boy, Oh Boy, Oh Boy Crafts
Thursday, September 10th
Melissa Rebel & Malice | Annika Näh-Connection | Abby Sew Much Ado
Friday, September 11th
Katie It's Hard to Hear Up Here | Jane Buzzmills | Lisa Mabey She Made It
Saturday, September 12th
Elena Randomly Happy | Allie Indiesew | Jess If Only They Would Nap
Monday, September 14th
Jaime Made By Jaime | Lauren BASTE + GATHER | Sara Made by Sara
Tuesday, September 15th
Audrey Skirt Fixationy | Teri Fa Sew La | Hayley Welcome to the Mouse House
Wednesday, September 16th
Emi Just Add Fabric | Rachael Imagine Gnats | Teresa Dandelion Drift
Thursday, September 17th
Kaysie | KZJO'STUDIO Rita Conversas de Hermanas | Stephanie Swoodson Says
Friday, September 18th
Andreia In a Manner of Sewing | Nienke Pienkel | Abbey Sew Charleston
And now for the Giveaway! Here's a reminder of the lovely prize package being offered (To enter, see the rafflecopter widget below)
*Any links with an asterisk indicate an affiliate link. If you make a purchase through that link, I earn a small percentage. Thank you for your support! I also was given a pattern by Straight Stitch Designs as a thank you for participating in this bloggy celebration. Please see my *Disclosure tab above for details.