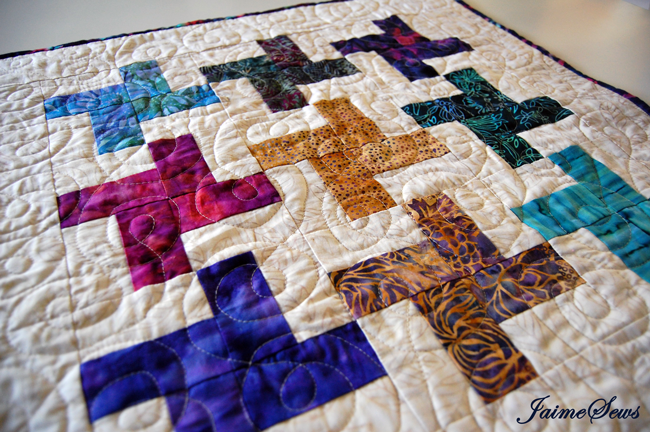 Happy New Year!!! This week marks the week back into routine and schedule for us. My husband is back to work today after taking a combination of holidays and vacation days for about a week and a half and, I'm not gonna lie, it's been fun to have some vacation, but I'm ready for the return of the routine! We've also been doing some woodworking, building a farmhouse bed, over the vacation (you may have seen sneak previews of it on instagram), which has become an annual tradition that I love/hate. I love having a new all-real-wood piece of furniture customized to my liking, but I get impatient with the process. I will be getting the last coat of poly on today and we will be able to park in our garage again in a day or two and the result will be a beautiful piece of furniture we hopefully won't ever have to replace! I'll be sure to post the final reveal.
Back in October the Modern Quilt Guild friendship group I attend sent out sign ups to do a mini quilt swap. I had so much fun with the Bag Swap we had done earlier in the year that I quickly snatched up that sheet and put my name down! I had a lot of fun searching pinterest for the perfect mini pattern or tutorial and finally landed on this Pinwheel Mini Tutorial from Diary of A Quilter.

My swap partner requested batik fabrics in a fall theme. I had all these lovely batiks left over from the Friendship Star Quilt I made last year so I arranged them in the order I thought worked best and grabbed a neutral batik to set them in. 
I wanted to do some kind of quilting that gave the illusion of wind blowing through the pinwheels so I asked my friend, Google. There were lots of great patterns but I thought the Mod Dotz pattern most fit my current ability. I did a little practice on a scrap until I was comfortable with the idea of the pattern and then just winged it! 
The backing & binding is a multi-colored batik I picked up on the flat fold table at Beverly's. At a past BMQG, someon shared a wall hanging with these handy little triangle quilt sleeves so I incorporated those in each corner along the top.

I really grew to love that little quilt so I was proud to pass it on to it's new owner. I wasn't able to attend the meeting but I dropped it off with the Swap Mama and the next week I picked up the quilt my swap partner, Nicci, made for me!
Isn't it amazing!?! I felt like I won the Mini Swap Jackpot! Nicci made this little pineapple quilt from cotton + steel fabrics – a combo which is absolutely to die for! This quilt is 24″ square so you can imagine how tiny those little pineapple pieces are – here's a close up.
The quilting on this mini is stunning – here's a look at the back so you can see it a little better. And Nicci was the one who shared her wall hanging earlier in the year with the triangle quilt hangers so of course she added those to this one too!
If you ever get the chance to sign up for a swap, I would definitely recommend it. In fact, I'm all signed up for a Rainbow Mini Quilt Swap I found out about on Instagram (Go #RainbowTeamOrange!) due this spring. It's a great way to make friends and share some handmade love with other makers who will appreciate it in a special way.
Have you ever made a mini quilt or participated in a swap?