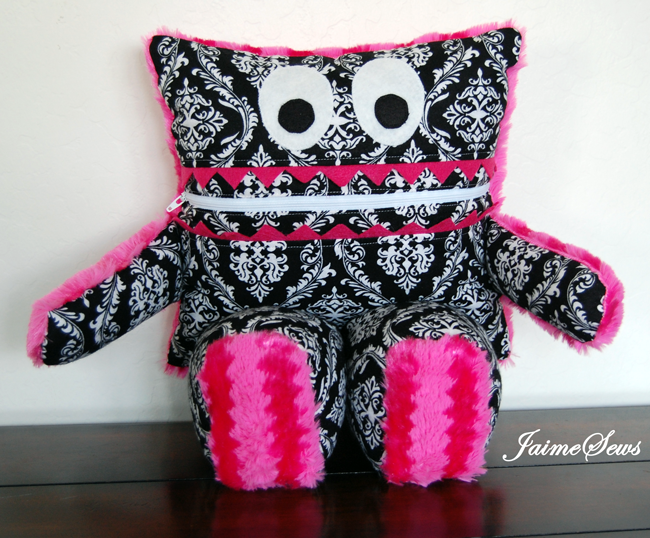 Today I'm sharing with you some Pajama Eaters I made for a new friend. You may remember I was in a craft fair earlier in November. The gals I met there were so incredible and I'm so glad to be able to remain in touch with them. One asked me to make some PJ Eaters for her to give as Christmas gifts and her requests were so fun & gave me a lot of room for creativity!

This first one I made for her son. He has a dinosaur themed room in these colors, but she also requested this PJ Eater have a dinosaur tail! 
To make his tail, I cut the back 1″ wider (to account for seam allowances) and then cut the piece in half. Then I cut two long triangles and added some triangle pieces of felt for the Dino-Scales and sewed the tail right into the back seam. So fun!
Next up, she has a nephew who is a huge Dodger's fan and has the accompanying decorated room to prove it. Since I was born a Dodger's Fan, this was a fun one to make.

Next up, she requested a Zebra-Print Cat with black and white and no other colors. For this one, I thought it appropriate to round the head of the PJ Eater and add cat ears. These were just triangles I cut from black felt and the zebra print and sewed into the seam to stick out the top. 
I also thought it was necessary that a cat have a tail!
The final request was for a Black and White Damask with hot pink. Well, with that request you cannot pass up hot pink minky so that's just what I used!
Every time I make these Pajama Eaters I fall in love with them all over again. They really are a blank slate to your own creativity and I know you will love making them for yourself. Get your pattern here at SewFearless or request your own by contacting me at .