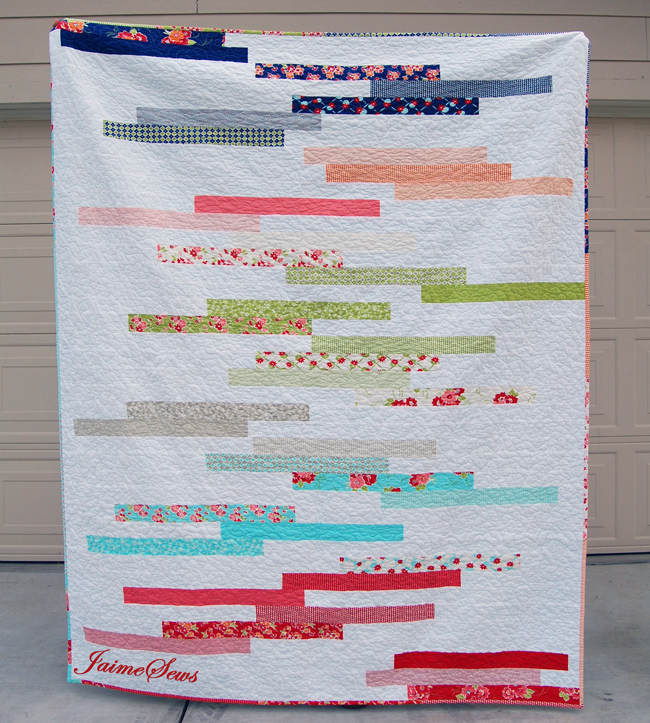 If you're looking for a quick and easy quilt with big impact, you've got to try making a Jelly Roll quilt! Maybe I'm the last person on the quilting planet to try Jelly Rolls, but what a great way to get a whole line of fabric in one small bite and be able to enjoy each and every print!
Last fall, my Modern Quilt Guild group handed out instructions for a jelly roll quilt and encouraged us all to get our supplies and sew it up at the next meeting. I quickly went down my list of family and friends trying to remember who hadn't received a quilt yet and my mom-in-law came to mind. I've made her things before – a winter wall hanging, a tree skirt – but she hadn't been given a full sized quilt yet so I thought it would be a great opportunity to make her a Christmas Gift. 
Patti decorates in red and just changed her guest room to this aqua color. I thought Miss Kate prints would be great for matching whatever room the quilt landed in.
To make a quilt like this, you just need one jelly roll in prints and a jelly roll (or 2 1/2 yards) of a solid. Open your prints jelly roll and cut each strip in half. Set aside one half for binding or a second quilt and then sew one full solid strip to each end of the half-length print making a loop. Do this for all your half-length prints and full solid strips. Take your scissors and randomly cut the solid strip at different points. I did an extreme, but you could also just cut from 1-6″ from your print to make the design more down the center of your quilt. Sew up your strips, making sure to sew one way, then the other, to attempt to keep the quilt somewhat square. Because of all the seams, it does end up pretty wonky, but quilting can work wonders and square it up after it's quilted and before binding.
That's my 6'1″ husband holding the quilt so you can see it's a generous size – close to a long twin, if I had to guess?
The back is an aqua minky with an embossed lattice pattern (Pssst! thefabricmarket.com has it for just $12.99/yd!). I sent this quilt out to Vera, locally, and she quilted a fun floral pattern all over. I used the remaining jelly roll strips for binding. 
So if there's a fabric line you just can't live without, grab the jelly roll pre-cut and you can enjoy a large quilt almost guilt free…almost.