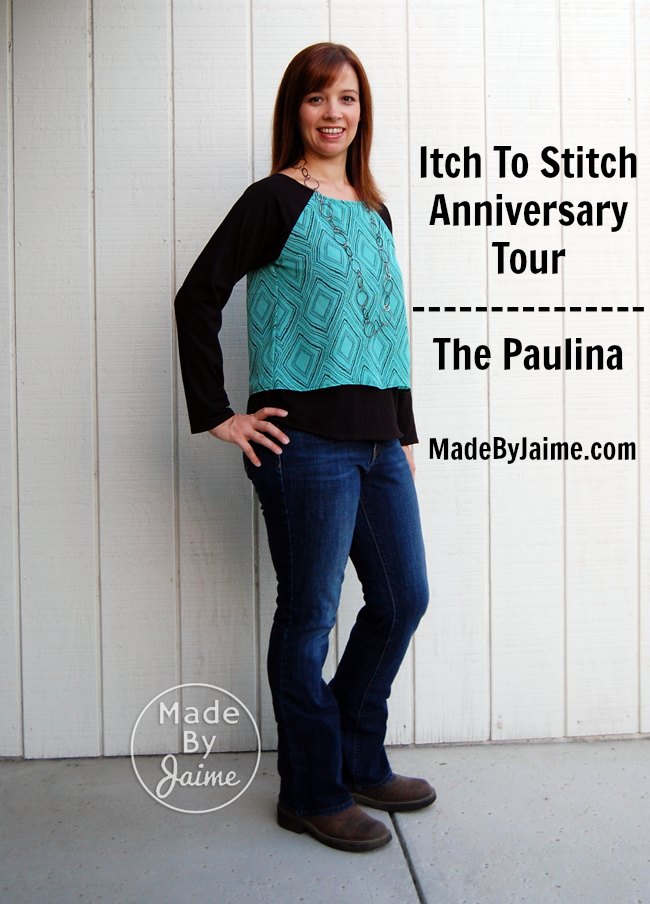 (scroll to the bottom to enter to win!)
Hey everyone! I'm back again on the blog with another Pattern Designer celebration! Don't you love a good celebration?! As you can see, there is a great giveaway  – daily as well as a grand prize so you'll want to check back with Itch to Stitch* every day of the blog tour, today through October 14th, and scroll to the bottom of this post to enter!
Last year, I enrolled in The Pattern Workshop* class by Lauren Dahl of Baste + Gather. Upon enrollment, I was added to a facebook group with all the other students. It was there I met Kennis of Itch to Stitch Designs and, soon thereafter, tested her first pattern, the Marbella Dress (love this dress!!). Kennis has released 9 additional patterns this year – shorts, tops and dresses – and since I had just finished a dress, I thought a top would be a nice change of pace. Thinking on to my fall wardrobe, I chose to hack the Paulina* pattern.
The Paulina top is for you, "If you want comfort and style at the same time…Pair it with leggings and boots, skinny jeans and heels, or capri pants and flats…" The original design includes
Knit top with woven contrast
Comfortable raglan sleeves
Relaxed fit cropped bodice
Underlay contrast with shirttail hem
Peekaboo cut outs below armholes
Wide neckline
Twelve sizes (00 – 20)
In order to "hack" the pattern, I decided to switch the shirt layers so the knit was underneath and the woven was on top. The woven is a chiffon diamond print I chose from my stash, but I originally bought it at F&M Fabrics, online at TheFabricMarket.com. You can find it here (at $3.99/yd!) and they also have it in a black and cream here.
Additionally, I omitted the peekaboo cut outs below armholes. The original Paulina has a very classic style, but I think the swapping of fabrics gives it a sporty element.
This top was a quick sew and everything went together perfectly. For personal preference, I will definitely be adding length to my next Paulina, but it is for sure a style I see myself wearing all fall and winter. Cozy but definitely not frumpy, which is great for a busy mom!
Thanks for stopping by! BUT WAIT – did I mention that during the tour, all of the Itch to Stitch Patterns* are on sale!? Get 20% off one pattern (code: 20off), 30% off two patterns (code: 30off), 40% off three or more patterns (code: 40off)!! And why not refill that cup of coffee and check out the other stops on the tour? Don't forget to keep scrolling to enter the giveaway at the bottom. Best of luck!!
*Any link with an asterisk indicates an affiliate link. If you make a purchase through any of these links, I earn a small commission. Thank you for your support! See more on the Disclosures tab.
Follow these blogs to see their awesome creations from Itch to Stitch patterns:
Scruffy Badger Time | Call Ajaire | Wally and Grace | Sew Wrong | Bella Sunshine Designs
Seaside Notions | Made by Jaime | Sweet Little Chickadee | Inspinration | Friends Stitched Together
Stoney Sews | Just Keep Sewing | My Little Sewing Dreams | Allie J. | Creative Counselor
Love, Lucie | Girls in the Garden | FABulous Home Sewn | Goddess of Sewing | Rebel & Malice
The Telltale Tasha | House of Estrela | Made by Sara | Sew Shelly Sew | Red Knits
Be sure to scroll to the bottom for your chance to win great prizes by these sponsors:
The Fabric Store – $100 Gift certificate
Elliott Berman Textiles – Fabric bundle from France & Italy
Craftsy – three online classes of your choice
Girl Charlee Fabrics – $25 Gift certificate
Indie Sew – $25 Gift certificate
UpCraft Club – $25 Gift certificate
Quarto Publishing Group USA – the SHIRTMAKING WORKBOOK by David Page Coffin
The featured designer of the day will give away 2 patterns to a lucky winner:
Follow Itch to Stitch's blog closely to win these patterns!