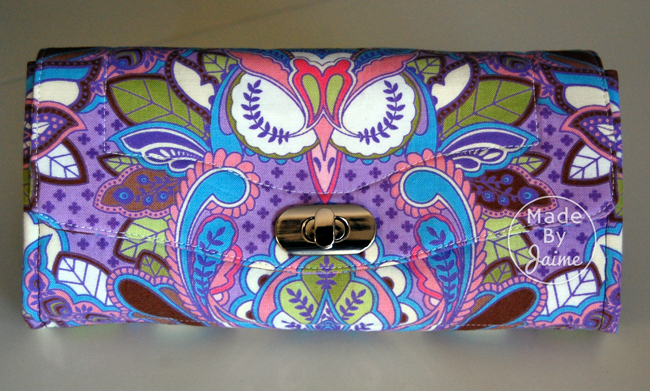 You might have seen me share this Tula Pink Necessary Clutch Wallet on instagram but I thought I would share it here in a little more detail! Last month I went to my local Modern Quilt Guild Friendship Group. When ever I go I'm almost NEVER working on something quilty – this time I was working on the Simply Sweats and Shorts pattern test – so when share time comes around, I rarely have something to share. I remembered I hadn't shown off my personal NCW yet so I thought this time I'd share that.
Afterwards, my friend Darla approached me about making one for her daughter, who was visiting and set to leave town in two weeks. Darla had been holding on to this Tula Pink print for years, but couldn't bear to cut into it. I only recently became aware of Tula Pink, and though it's not always my personal style, I knew how much it meant to Darla so I took it and cut…very carefully! 
I think I've said it before, but if you're thinking of making a NCW and you're not a member of the NCW Addicts group on Facebook, I would definitely recommend joining. They have a list of files in the group with pattern hacks/additions, tips & tricks for various parts of the construction, and tutorials on how to line up prints for the best placement.

I made this one exactly like I made my personal NCW – double zipper, ID Pocket adn outside zipper. Then I added the zipper tabs, which I love. It really cuts back the bulk and provides a professional finish. Each one I make I play with the interfacing combinations. This time I put the peltex for the trim inside the flap instead of adding the trim on the exterior. Then I used my Clover Hera Marker to go around the peltext so I could see where to stitch and used my zipper foot to stitch right up next to it. (I love that tool, by the way – helps with smoothing out the wallet after it's turned, marking with no ink, etc.) This is a great flap finish option when you want to maximize the view of the flap fabric.

The Necessary Clutch Wallet Pattern can be found at Emmaline Bags in paper or PDF and I highly recommend her purse locks too (I use the small one for the NCW). They have two little screws in the back instead of the prongs so it feels more secure. Shipping from Canada to the U.S. is not bad at all.

The NCW makes a great gift and they're quite addicting! I hope to get ahead some day and make a few to offer in my Etsy shop – stay tuned!