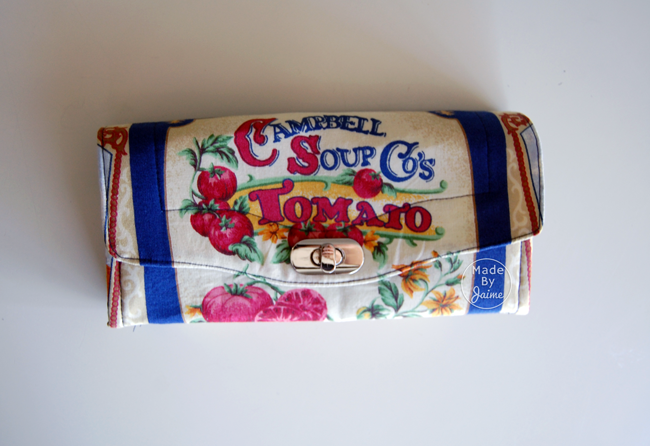 Have I warned you that once you start making NCWs, you just can't stop? Well my mother in law's birthday is in May, the same month as Mother's Day. We had her over for dinner at her request for her Mother's Day present and she did that thing that mom's sometimes do and told us not to get her anything for her birthday. Well, I already had this NCW fabric ordered and in the plans, so we did that thing that kids sometimes do and said, "Sure mom!"
She likes to collect Campbell's Soup paraphernalia and she is married to a Campbell so I thought this fabric would be fun. I actually made this before the Tula Pink NCW, it was my first attempt in lining up a print to match on the body and the flap. I am happy with the results!  
Because it is a directional print, I also pieced the body so the back would show the print right side up. Inside, I added an I.D. window, but otherwise followed the pattern. 
I also fussy cut the inside flap to feature another label from the fabric panel. Each time I make the NCW, I play a little with the interfacing in the flap. This time around I interfaced each piece with Pellon SF-101, then I put the decorative piece of Peltex inside the flap instead of wrapping it in fabric and stitching it to the top. Then I Stitched close to it to give some dimension. I think my favorite combination will be Pellon 808 and decorative piece of Peltex inside. I have a few orders already so we'll see if I stick with it or not! 
I did not know it, but mom said she was in need of a wallet! So I hope she'll be able to enjoy it for years to come. 
I just love how fun these wallets are to put together and how practical they are! If you haven't made one yet, head on over to Emmaline Bags to grab your pattern and hardware (she has the best hardware, in my opinion).